Tonight, on a Can't Miss Episode of The Independents: Paul Wolfowitz, Tom Ridge, and John Bolton Get Interrogated on Foreign Policy (Bumped/Updated)
Friday's theme episode of The Independents (Fox Business Network, 9 p.m. ET, 6 p.m. PT) is titled "Mad World," and it's about the mixed-up, shook-up planet we live on, and what the United States government should (or shouldn't) do about it. Almost accidentally, the show has morphed into a vigorous debate over George W. Bush-era foreign policy with some of the principals involved.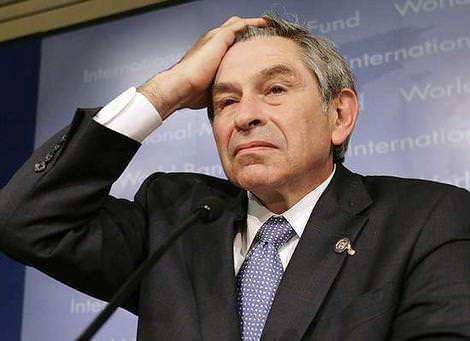 Former Bush deputy secretary of defense Paul Wolfowitz defends the Iraq War, elevates his former boss over his former boss's father, and rejects the historical premises of the co-hosts. Original Department of Homeland Security secretary Tom Ridge defends the DHS and the Transportation Security Administration, and rejects the notion that threat alerts were ever politicized. And former U.S. ambassador to the United Nations John Bolton tussles with the co-hosts (and former Reagan-administration deputy defense secretary K.T. McFarland) over drones, nukes, and red lines. These segments are not what you would describe as typical exchanges on cable television.
What about China? Fox Business Network reporter Jo Ling Kent and author Gordon Chang provide some welcome context and expertise. Three-war vet and radio host Bryan Suits talks about how military deployment creates libertarians, and (of course!) there is a game in the middle of the show called "Name That Dictator," featuring contestants Tracy Byrnes and Ellis Henican.
Follow The Independents on Facebook at facebook.com/IndependentsFBN; follow on Twitter @ independentsFBN, and click on this page for more video of past segments. And yes, I'll bump this post later, you demanding so-and-sos.
UPDATE: This episode will re-air tonight at midnight ET, then again at 2 a.m., and on Saturday and Sunday at 7 p.m.