Less Than Half of the States Met their Obamacare Enrollment Targets
In the press release accompanying the administration's Obamacare enrollment report yesterday, Health and Human Services Secretary Kathleen Sebelius declared that the 8 million people who had signed up for private health plans in the law's exchanges had "exceeded expectations."
That depends on which expectations you're referring to. Looked at nationally, it's true enough, at least if you count sign-ups rather than paid enrollments. The Congressional Budget Office (CBO) had initially expected 7 million people to gain private coverage through the law in 2014, an estimate it revised down to 6 million after the botched launch of the exchanges last of October. As of April 19, slightly more than 8 million had signed up, according to yesterday's report. If you're looking at actual enrollments, on the other hand, and you assume a 15 to 20 percent attrition rate due to non-payment of premiums, then the coverage total drops to somewhere between 6 and 7 million, meaning it beat the CBO's revised expectations but not the initial projection.
But it's also worth remembering that Obamacare enrollment varies quite a bit by state. And some states beat their enrollment projections handily, while others lagged far behind initial estimates. An analysis released today by the health consultancy Avalere Health compares enrollment projections in each state with total reported sign-ups, as well as with a lower figure that factors in a 15 point drop as a result of non-payment of premiums.
According to Avalere, 22 states met or exceeded enrollment expectations, with the biggest overages appearing in Florida and California, which even after attrition for non-payment hit 199 and 186 percent of their projected sign-ups, respectively. Another four states came reasonably close to hitting their estimates, reaching at least 90 percent of their projected total. Here it is in map form: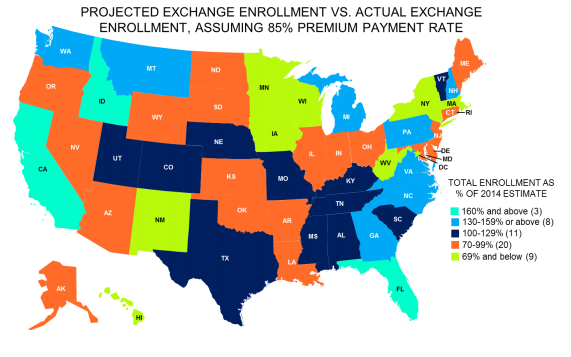 The rest of the states all came in lower, in some cases much lower, than expected. Attrition-adjusted enrollment in the Distriction of Columnia came in at 40 percent of expected enrollment. Hawaii came in at 46 percent. Wisconsin came in at 57 percent. The figure that stands out the most is New York's attrition-adjusted enrollment, which is just 49 percent of the expected total. That's a bit unexpected considering that New York's existing mess of insurance regulations had decimated the individual market, and that it was one of the few states where Obamacare's rules were almost certain to bring down individual market premiums from their previous highs. (Granted, the state still managed to sign up 370,500 people, more than all but three other states.)
The report is a reminder is that, especially at first, Obamacare is going to look and feel very different depending on what state you're in. In some places, you'll see robust sign-ups and insurers responding accordingly. In other states, you'll see tiny, struggling markets. Health plan providers are just not going to care as much about doing business in those areas. And, presumably, the politics will be somewhat different in those states as well.