Court Admits Ruling May Do 'Severe and Irreparable Harm' to Ohio Libertarian Party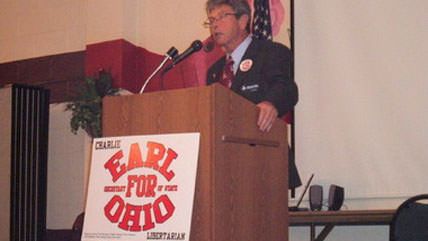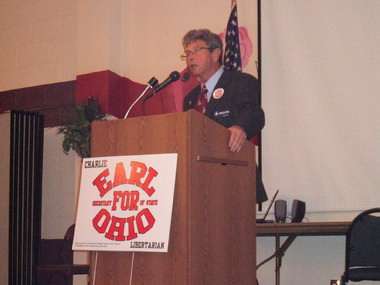 The Ohio Libertarian Party (LPO) gubernatorial candidate Charlie Earl was shot down by a U.S. circuit court yesterday and is taking his case to the Supreme Court as a final bid to get on the ballot.
As a recap, earlier this year Earl got enough signatures to run, but Secretary of State John Husted, a Republican, had him disqualified on a technicality: The person Earl hired to collect signatures failed to list the LPO as his employer. The would-be candidate has taken the case through the court system claiming that the signature collector's First Amendment rights, specifically his right to not declare his employer, are being denied by Husted.
The previous judge before the case said the burden of listing an employer was minimal, and sided against Earl.
The 6th U.S. Circuit Court of Appeals yesterday stood by that ruling and doesn't seem to care much about the impact this could have on the LPO. The Associated Press reports:
The three-judge panel acknowledged the decision could present "severe and irreparable harm" on the party and likely undermine its status as a ballot-qualified party in the state.

"We note that the LPO has struggled to become and remain a ballot-qualified party in Ohio, and we acknowledge that this decision entails that their efforts must continue still," the opinion said. "But we also note that we decide one case at a time, on the record before us. In so doing, we preserve the First Amendment's primary place in our democracy over the long run."
Regaining that status would require jumping through some serious hoops, thanks to a recent Republican-crafted law. Earl is making an appeal to the Supreme Court, though that won't yield anything in time for the May 6 primary.
Earl accuses the Ohio GOP of deliberately setting up barriers to his candidacy out of fear that he will take votes away from Gov. John Kasich. Significantly (and perhaps surprisingly), the courts agree. The district court that previously sided against the Libertarian acknowledged that "operatives or supporters of the Ohio Republican Party" orchestrated a plot against him. The circuit court reaffirmed this yesterday, lumping the Democratic Party into the conspiracy, too. This meddling and undermining competition in elections has no legal bearing on the very serious issue of failing to meet a technicality.