Chelsea Manning's Name Change Is Official, SCOTUS Limits Child Porn Restitution, Georgia Loosens Gun Laws: P.M. Links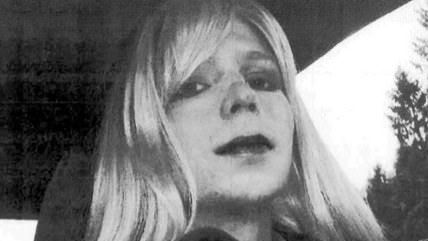 US Army

A judge has ruled in favor of legally allowing Chelsea Manning to change her name from Bradley and for her birth certificate to be amended as such. This doesn't obligate the Army to treat Manning as a woman, and she'll remain imprisoned at Fort Leavenworth, a male-only facility.

The Supreme Court has ruled to limit how much restitution victims can demand from people who possess child pornography but were not responsible for producing it.
Georgia's governor has signed a gun rights law that allows licensed owners to carry their weapons in more places, including schools, bars, churches, and some government buildings.
More than 60 have been killed in a train derailment in the Democratic Republic of Congo.
Google maps now allow viewers to see earlier versions of street view images taken over the past seven years. Google plans to continue allowing users to see old photos as they move forward and take new ones.
Amazon has struck a deal with HBO to stream some of the premium cable network's content, but not any of its newer stuff like Game of Thrones. If you're looking for some Arli$$, though, there's good news!
Follow us on Facebook and Twitter, and don't forget to sign up for Reason's daily updates for more content.