Arizona Bill Opens Abortion Clinics to Surprise, Warrantless Searches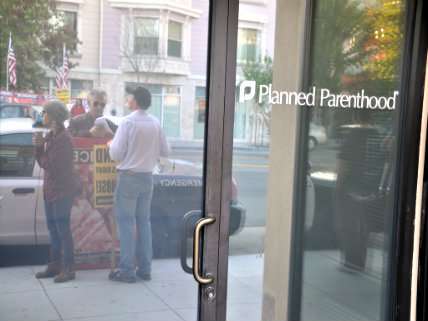 Arizona legislators passed a bill Wednesday that allows for surprise, warrantless searches of abortion clinics by state health authorities. The bill, backed by the same folks that pushed Arizona's recent "religious freedom" measure, removes the need for Arizona's health department to obtain an administrative warrant from a judge before surprise inspections.
In February, the bill's sponsor, state Rep. Debbie Lesko (R-Peoria), argued that there was no reason abortion clinics in Arizona shouldn't be subjected to the same scrutiny "that happen[s] at Burger King and McDonald's." It would also be the same (murkily constitutional) scrutiny applied to other Arizona medical facilities, which health officials don't need a warrant to search at random.
But a federal appeals court has previously blocked similar legislation. In 2004, 9th U.S. Circuit Court of Appeals noted that while warrantless searches are allowed in closely regulated industries, the theory behind that exception is that people engaging in or employed by such industries have a diminished expectation of privacy.
That theory clearly does not apply to abortion clinics, where the expectation of privacy is heightened, given the fact that the clinic provides a service grounded in a fundamental constitutional liberty, and that all provision of medical services in private physicians' offices carries with it a high expectation of privacy for both physician and patient."
Therefore, the judge concluded, warrantless searches were unconstitutional under the Fourth Amendment.
Second time's the charm? Arizona Republicans are hoping so. Having already passed the House, Lesko's bill passed the state Senate 17-13 Wednesday and now goes on to Gov. Jan Brewer. If enacted, Arizona would become the 11th state that allows for warrantless surprise inspections of abortion clinics, according to the Guttmacher Institute, a sexual health nonprofit. Abortion-rights activists have said they'll challenge the measure in court if it does become law.
Supporters of the legislation say it's not an anti-abortion measure, merely an effort to better protect "the lives of women and children." But in the absense of any evidence that unsafe abortion clinics are an issue in Arizona, that rings a little false. (The first warranted search of an abortion clinic in several years just recently took place, "in response to a low-priority report" filed nearly a year ago "about a complication that a patient experienced.")
It's also hard to see how the bill would restrict or complicate reproductive rights, so long as it's not abused. But as Sen. Olivia Cajero Bedford (D-Tucson) notes, it could easily be abused by ideologues to harass and interfere with abortion clinics. "This bill simply opens the door for abuse and does nothing to keep women safe," Bedford said during debate on the Senate floor. "In fact, it's just another harassment tool the supporters are pushing to force a lawsuit."
Well, and to force more culture war outrage, of course.
Brewer hasn't yet indicated whether she'll sign the law.