Nevada Rancher Threatens "Range War" Over What He Sees as Illegitimate Bureau of Land Management Seizure of His Cattle
Cliven Bundy, a Nevada cattle rancher, has threatened a "range war" with the federal government as its Bureau of Land Management (BLM) has begun confiscating his cattle.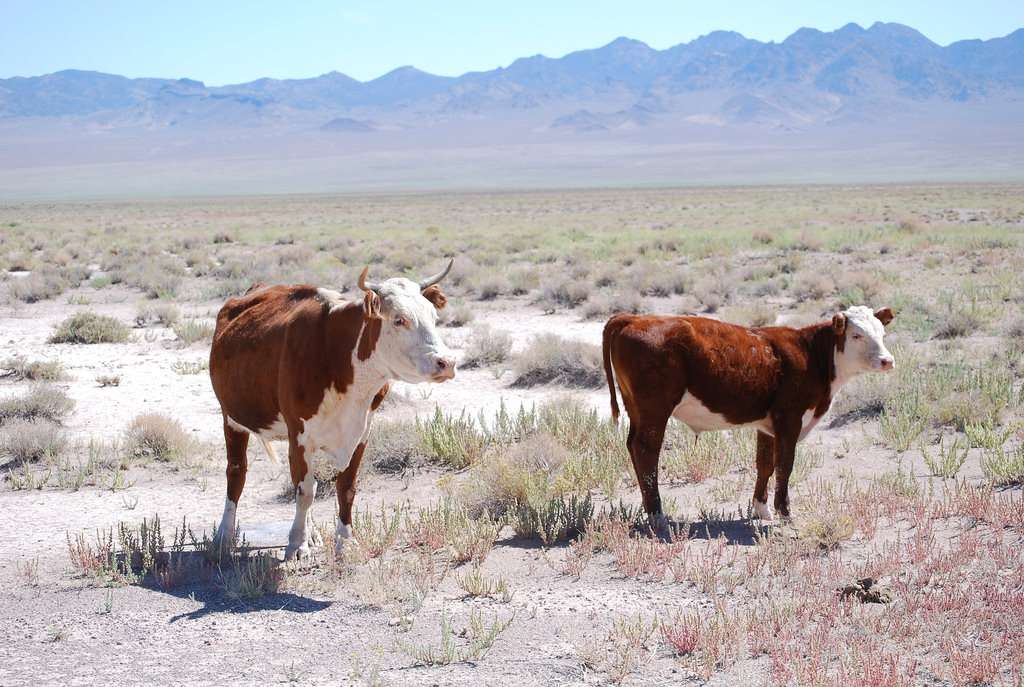 The BLM is mad at Bundy for racking up over $300,000 in unpaid grazing fees the agency claims he owes for 150 square miles of scrub the BLM legally owns; he hasn't paid any since 1993.
As the Los Angeles Times reports:
Officials say Bundy is illegally running cattle in the 600,000-acre Gold Butte area, habitat of the federally protected desert tortoise. Last year, a federal court judge ruled that if the 68-year-old veteran rancher did not remove his cattle, they could be seized by the BLM. That seizure began Saturday….

Federal authorities have closed off the Gold Butte area and are rounding up what they call "trespass cattle," many of which belong to Bundy. By Monday, 134 cattle had been impounded….

Bundy says he "fired the BLM," and vows not to pay one dime to the agency that he accuses of plotting his demise.

A father of 14…Bundy has insisted that his cattle aren't going anywhere. He acknowledges that he keeps firearms at his ranch, 80 miles north of Las Vegas, and has vowed to do "whatever it takes" to defend his animals from seizure.
Bundy is the type who, from his public statements, seems to believe in local and county and state authority and not federal. He insists his family has homestead rights to that land from the 1880s that predate the federal government's claims. Hundreds of Bundy supporters have gathered in the past couple of days to protest the BLM's actions, but they've been taking the cattle anyway.
Bundy has been reminding the press of Waco and Ruby Ridge and other times when federal agents facing recalcitrant citizens have resorted to violence. As ABC News reported:
a spokesperson for the National Park Service were told that Bundy supporters had reported seeing snipers present near the Ranch. Asked whether snipers indeed were on the scene, they said that law enforcement was in place, as needed, and that they could not comment more specifically.
Reassuring!
Dave Bundy, Cliven's son, was briefly arrested Sunday then released, as he told the Las Vegas Review Journal:
The 37-year-old said heavily armed federal agents roughed him up and arrested him for exercising his constitutional rights on a state highway in northeast Clark County on Sunday.

"They got on their loudspeaker and said that everyone needed to leave," Dave Bundy said during an impromptu press conference alongside his father outside a 7-Eleven on Las Vegas Boulevard. "I stood there and continued to express my First Amendment right to protest, and they approached me and said that if I didn't leave, they'd arrest me."

The younger Bundy said he was taking photographs and protesting peacefully at the time.

Natalie Collins, a spokeswoman for the Nevada U.S. Attorney's office, said Bundy was cited for misdemeanor charges of "refusing to disperse" and resisting arrest.

Earlier, BLM spokeswoman Kirsten Cannon said Bundy was taken into custody to "protect public safety and maintain the peace."…

Dave Bundy showed a Review-Journal reporter his scratched face and swollen, scraped hands while describing his arrest.

"Without any further questions, two rangers surrounded and a third one approached me and they all jumped me, pulling different directions. And then a couple other guys jumped in and they took me to the ground," Dave Bundy said. "… One ranger had had his knee on my spine and the other one was on my head with his knee on the side of my head and his other knee on the back of my neck."

Dave Bundy maintains his arrest was improper because he was standing along the side of Route 170 in a state right-of-way. BLM officials said the right-of-way is under their jurisdiction and within an area their agency had closed to the public.
This KCET.org article tries to make the preservationists' case against Bundy's cattle.
The Bundy family's collection of YouTube videos making their case (hat tip to the Griggs Family on that link).
UPDATE: The latest actual court order for Bundy to remove his cattle, from October. The Justia page for the case.