Tonight on The Independents: Virginia Postrel, Bjorn Lomborg, Cathy Reisenwitz…Eich Politics, Jeb Bush's Immigration, Jay-Z's Jewelry, Rape Culture; Plus Sexy After-Show!

Tonight's live episode of The Independents (9 p.m. ET, 6 p.m. PT, on Fox Business Network, with repeats three hours later) will feature a Party Panel of beloved ex-Reasoners: Cathy "Sex and the State" Reisenwitz (Reason archive here), and former editor in chief Virginia Postrel. The unambiguously awesome duo are slated to discuss the Mozilla/Eich controversy, whether (in Sen. Kirsten Gillibrand's words) college campuses have become "havens for rape" (or in Cathy Young's, "kangaroo courts"), and also whether we should inflate giant cartoon cats to protest men whistling at attractive ladies on the street.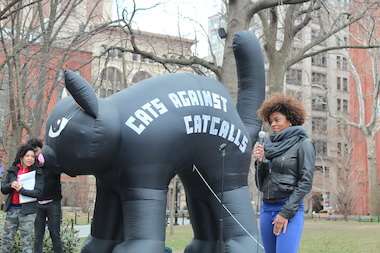 Did you hear the one about how "Social Media Expert Says Libertarians and Rand Paul Have a 'Tremendous Opportunity' in 2016"? Well, said "expert," John J. Cardillo of The Blaze, will be on to discuss his methodology. "Skeptical environmentalist" Bjorn Lomborg will talk about the recent report from the United Nations Intergovernmental Panel on Climate Change. Jeb Bush the other day described illegal immigration as an "act of love," so there'll be discussion about that. And Keepin it' Kmele will be about Jay-Zs controversial "Five Percent Nation" necklace.
Go to foxbusiness.com/independents at 10 p.m. sharp for the online-only after-show, and click on this page for video of past segments. Join the fun on Facebook at facebook.com/IndependentsFBN, and on Twitter @ independentsFBN.