On Death Row for a Murder Her Son Admitted To, Michelle Byrom Will Finally Get a New Trial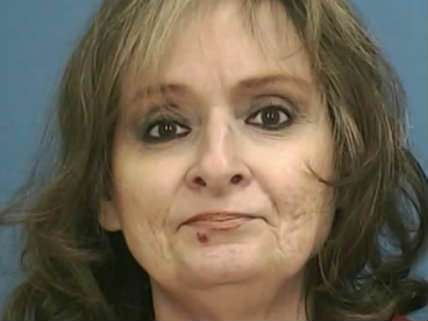 After about a decade and a half in prison for a crime she may not have committed, Mississippi death row inmate Michelle Byrom, 56, will have another chance in court. On Monday, the Mississippi Supreme Court unanimously reversed Byrom's capital muder conviction and ordered a new trial with a new judge take place.
Byrom was convicted of murder in 2000 after her son, Edward Byrom Jr., testified in court that she'd hired a hit man to kill her husband (and his dad), Edward Sr. The judge, Thomas Gardner, sentenced Michelle to death.
But ample mitigating evidence—including years of verbal, physical, and sexual abuse at the hands of Edward Sr.—was never admitted into the courtroom. Neither was the repeated confessing from Edward Jr. to killing his father himself.
From the Jackson Free Press:
Edward Byrom Jr. confessed to murdering his father, Edward Byrom Sr., on June 4, 1999, in a letter to his mother … One of at least four known confessions—there are two additional letters and a statement to his court-appointed psychologist—it might have been evidence to convict "Junior" for murder.

Instead, Tishomingo County deputies arrested Junior as part of a murder-for-hire conspiracy. Junior's friend Joey Gillis was the shooter, they said, and his mother, Michelle Byrom, was the mastermind.

Junior led police to the murder weapon, though. And only Junior had gunpowder residue on his hands.

He made a deal. Junior testified against his mother in return for a reduced sentence.
Both Gillis and Junior were convicted as well, but only Michelle got the death penalty. Gillis was released from prison in 2009, Junior in 2013.
In February 2014, the U.S. Supreme Court declined to hear Michelle Byrom's case. The Mississippi attorney general, Jim Hood, requested a March 27 execution date.
In light of the high court's ruling, Hood told CNN that his office would seek the reasoning for the reversal "so that the lower court knows the best way to proceed." He added: "Our citizens can once again take comfort in the fact that we have a legal system that works for all parties involved." Well, if you overlook the fact that you very, very nearly executed a potentially innocent woman who's already been in jail for 14 years based on dubious testimony … sure.