Cop in Kelly Thomas Beating Death Wants Immunity from Federal Prosecution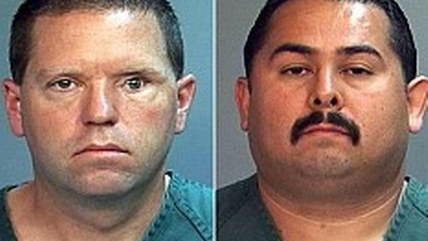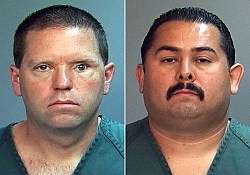 Homeless schizophrenic Kelly Thomas, 37, was beaten to death by police in Fullerton, California, in 2011. Two officers, Manuel Ramos and Jay Ciccinelli, were charged in Thomas' death, but were found not guilty by a jury in January.
Thomas' father, Ron, has filed a wrongful death suit against the Fullerton police for Thomas' death, alleging assault and battery, negligence, and civil rights violations.
But there's a new problem. The federal government is investigating the beating as well, and now Ramos is asking for immunity from federal prosecution before being deposed in Ron Thomas' civil suit. From the Los Angeles Times:
Because of the potential for being prosecuted by the federal government, Ramos filed a motion on March 20 asking for immunity regarding any statements he made during the deposition about his violent confrontation with Kelly.

If Ramos isn't granted immunity, he likely will ask a judge to limit the scope of questioning.
Ramos' attorney said that subjecting Ramos to questioning about what happened the night of Thomas' death would essentially violate the former officer's 5th Amendment rights.
To sum up, Ramos doesn't want anything he says in a civil trial to be used against him in a possible federal trial because it would be a roundabout way of getting around his right not to incriminate himself. As loathsome as we may find Ramos, is it hard to disagree with that logic?
Katherine Mangu-Ward noted recently that in the wake of the acquittal, Ramos attempted a visit to Denny's only to discover the community not very hospitable. Ciccinelli has also been tracked down coaching Little League baseball.
Below: Reason TV's report on the Thomas case and the power of filming police abuse. Needless to say, the video was produced before Ramos and Ciccinelli were found not guilty: