How Much Is a Pack of Joints Likely to Cost?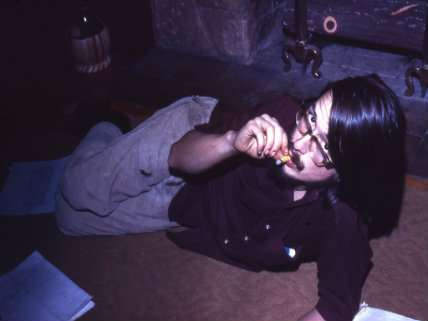 At Fast Company, writer Thor Benson calculates how much a pack of joints—or marijuana cigarettes, if you prefer—would be likely to cost should a major cigarette company decide to get in on the game soon. As of now, rumors that Marlboro is going to pot (I'm sorry) are just that: rumors. But as the weed business begins booming legally in more states, "don't be surprised to see big tobacco turn into big marijuana," writes Benson. Until then, pricing a pack of joints is purely a thought exercise. But who hasn't wondered what a 20-pack of Camel Greens might cost?
In June of 2013, a company named BOTEC speculated that the production cost of marijuana ranges from $2 to $3 per gram, which "implies a price to retailers of $6.25, which is broadly consistent with current access points paying about $5 per gram." The average Marlboro cigarette has just under one gram of tobacco in each of the 20 cigarettes contained in a pack. So at the low end of things, you're looking at a production cost of nearly $40 per pack of Mary Janes.

… But production cost also does not factor in what the company must charge to make a profit. The Economics of Smoking, written in 1992, declared that production costs are often half of what cigarette companies wholesale their product for, so what costs a large corporation $40 per pack could result in a $70 or $80 retail price.
Bummer. But Benson is optimistic that economies of scale could bring the cost down. Another price-lowering solution might be for companies to mix tobacco with marijuana.
If marijuana cigarettes were to be mixed with tobacco, at a 50-50 ratio, it would bring the cost down significantly. Many tobacco farmers will wholesale a pound of their product for less than $2. With a 50-50 ratio of marijuana to tobacco, the cost of producing a pack of 20 pre-rolled joints could be brought down to just a little more than $20—so a $40 pack at the store.
But adding in tobacco would likely bring on more state sin taxing, so perhaps not a terribly cost-saving measure for consumers. Plus we'd have to endure a lot of concern over how half-marijuana and half-tobacco cigarettes would normalize marijuana, or re-normalize tobacco, or something. Heaven help us should anyone make one cherry flavored.
Of course, with the kids all going e-cigarettes and vaporizers these days, perhaps the more savvy route for businesses would be selling e-joints. Electronic cigarettes are "now regularly used as a way to consume marijuana," according to Benson. (I am marginally ashamed that I didn't know this.) There's apparently a booming underground and legal market in THC oil e-cigs already.
Marlboro's parent company, Altria, recently acquired e-cig manufacturer Green Smoke, a move which Quartz writer John McDuling thinks signifies its interest in the marijuana business. One e-cigarette manufacturer told McDuling that use of the products for smoking pot is "an open secret," and that "all the big tobacco companies" are looking into marijuana vaping technology. If you'd like to learn more about the technology yourself, meet John: