Heavy Metal Capitalist: Iron Maiden Singer Bruce Dickinson Invests in 'World's Biggest Aircraft'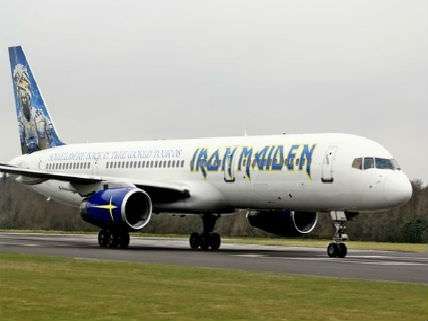 In January 2013, Anne Jolis of The Wall Street Journal interviewed Iron Maiden frontman Bruce Dickinson about his side career as a businessman involved in Britain's "highly regulated" airline industry. That experience, he explained, helped open his eyes to the risks of overregulation. "Civil servants, on some level, are almost institutionally prejudiced against entrepreneurial activity and risk," Dickinson declared.
Writing today at Wired.com, Alexander George brings word of Dickinson's latest entrepreneurial adventure, investing in the "world's biggest aircraft." Here's the story:
It looks like a sketch from Howard Hughes' notebooks, but this massive air ship is real, and currently the biggest aircraft ever produced. It can also be remote-controlled and land on water. And the lead singer of Iron Maiden is an investor.

The HAV 304 "Airlander" is just over 300 feet long. That's nearly 60 feet longer than a Boeing 747, 80 feet longer than the Spruce Goose, and 30 feet longer than the Antonov An-225, the previous title-holder for the world's largest aircraft.

The flying leviathan was produced by British aeronautics firm Hybrid Air Vehicles, and it's being considered for commercial and rescue applications–at around $100 million each.