The GOP Is All Noise and No Substance on Ukraine
Republican lawmakers should stop demanding the U.S. do something and accept that we can't be the world's policeman.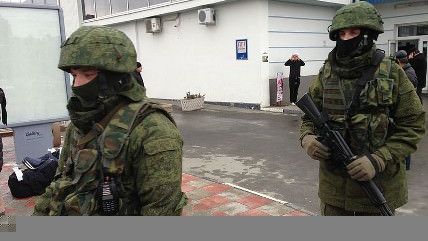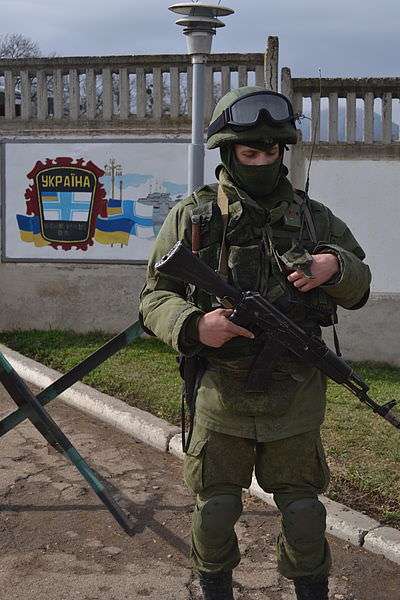 The ongoing crisis in Ukraine has provided the GOP with another opportunity to criticize the Obama administration's foreign policy. In the last few weeks legislators such as Sen. Ted Cruz (R-Texas) as well as former Republican officials such as John Bolton have attacked President Obama's perceived weakness when it comes to foreign policy. However, the Republican criticisms of Obama's foreign policy that have been on display since the Russians invaded Crimea have a lot in common with other Republican critiques of the president's policies: a lot of vocal opposition, but no realistic proposed solutions.
In a speech at this year's Conservative Political Action Conference (CPAC), Cruz said that since Obama took office "hope has diminished across the world. The people of Ukraine has seen Russian tanks move into their sovereign land as the nation of Israel has been left without its friend and ally, the United States of America."
Also speaking at CPAC, Bolton, former United Nations Ambassador under President George W. Bush, called Obama a Wilsonian and America's "biggest national security crisis," and added that when it comes to Ukraine Obama does not have a strategy. Another former Bush administration official, Dick Cheney, said on CBS's Face the Nation that the Obama administration has projected an image of "weakness."
Unsurprisingly, Sen. John McCain (R-Ariz.) was quick to slam the president's response to the crisis in Ukraine, saying that while he understood there couldn't be a military response to the Russian invasion of Crimea, Obama's foreign policy was "feckless." McCain has called for the U.S. to impose sanctions on some Russian officials and speed up the process by which Georgia could become a member of NATO.
Although Obama's response to the situation in Ukraine may not be welcomed by many Republicans, they are not proposing much in the way of a realistic solution.
To be fair to Republicans, there has not been any serious suggestion by Republican lawmakers that the U.S. bomb Russian forces or put boots on the ground in Ukraine, although the lack of military options in Ukraine was described as "tragic" by McCain.
Nor should it be surprising that at an event like CPAC speakers are big on rhetoric and light on details. But what has been proposed by Republicans will hardly result in a resolution to the crisis in Ukraine.
Earlier this month, Sen. Marco Rubio (R-Fla.) outlined eight steps he wanted Obama to take in order to punish Russia for its invasion of Ukraine. Among these steps are calling an emergency NATO meeting, putting forward a resolution in the United Nations Security Council condemning Russia's actions in Ukraine, boycotting the upcoming G8 talks, suspending talks with Russia on all issues not related to the crisis, and (like McCain) pushing for Georgian NATO membership.
Putin is not going to stop his latest foreign adventure because some talks are boycotted or if discussions with the U.S. are suspended. Nor will the possibility of appearing hypocritical before the U.N. Security Council likely motivate Putin to remove Russian forces from Crimea. In 2008, when Putin was Russia's prime minister, Russian forces invaded Georgia and showed little concern over international condemnation.
Cheney has suggested reinstating the ballistic-missile defense program that was planned for Poland and the Czech Republic, sending military equipment to Ukraine, and for the U.S. to conduct military drills with Poland. These moves, if implemented, will perhaps serve as a show of strength and unity between the U.S., Ukraine, and their allies, but they would not motivate Putin to order a withdrawal of troops from Crimea or strike fear into the heart of the Kremlin, which commands a military that could easily deal with the combined forces of Poland and Ukraine.
Thankfully, most Americans and many conservatives who have openly criticized Obama's response to the crisis in Ukraine do not think that a military intervention would solve the problem. Recent polling by CNN shows that only 12 percent of Americans support having troops on the ground in Ukraine, and only 17 percent said that they would support air strikes on Russian forces in Ukraine. Recent Pew polling shows that while 68 percent of Americans do not think that the Russian invasion of Crimea is justified, only 8 percent think that the U.S. should "consider military options" in the region.
This is not the first time that Americans have expressed hesitancy towards military intervention in response to a foreign crisis during Obama's presidency. In the aftermath of last summer's chemical attack near Damascus, polls showed that Americans were overwhelmingly opposed to military intervention in Syria. While Americans may shun military intervention, CNN's polling showed that 59 percent of Americans support sanctions on Russia in response to the crisis in Ukraine. However, as Reason columnist Steve Chapman has pointed out, Western sanction on Russia have little chance of changing Putin's ambitions relating to Ukraine.
Rubio and McCain were two of the Republican members of the Senate Foreign Relations Committee to sign a letter to Obama, saying that they supported the use of "targeted sanctions." It read in part:
We are prepared to work with your Administration to reinforce your efforts by authorizing U.S. loan guarantees to Ukraine and increasing assistance to facilitate a peaceful transition of power. We also believe that the U.S. should make use of the tools at its disposal, including targeted sanctions; and asset recovery targeting corruption, to dissuade individuals who would foment unrest to undermine Ukraine's territorial integrity or employ coercive economic measures against the Ukrainian people and the new Ukrainian government.
Only two Republican members of the committee did not sign the letter, Sens. Jeff Flake (R-Ariz.) and Rand Paul (R-Ky.).
The situation in Ukraine offers the latest example of a reality that many in the Republican Party are unwilling to accept: The U.S. does not have the influence it once did and cannot police the world. Military intervention is out of the question, economic sanctions are unlikely to work, and Russia will not view condemnation from the West as anything more than a whine.
In order for the current crisis to be resolved Russia needs to feel it is not losing influence in the region. Historical ties and Putin's desire not to be viewed as weak make moves such as advancing Georgian or Ukrainian membership of NATO risky. It should be noted that according to former British ambassador to Moscow Rodric Braithwaite, most Ukrainians don't want to join NATO (a military alliance). However, many Ukrainians would like to establish closer ties to the European Union (an economic bloc).
Given the need not to overly antagonize Russia in the current situation, it seems like Rand Paul, who has urged the GOP to resist "tweaking" Russia and to move away from a Cold War mentality, has the right idea. There are few options in Ukraine. The U.S. should condemn the unjustified invasion of a sovereign nation and encourage the conflicted parties to reach a diplomatic solution while accepting that it is not in a position to interfere.