Ukraine: Russia Seizes Hospital, US To Investigate Corruption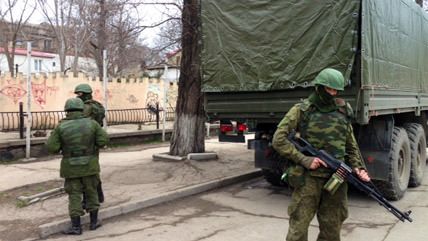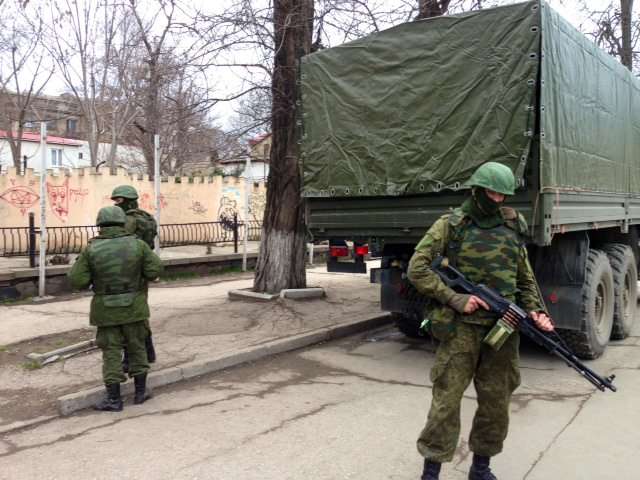 Ukraine's crisis drags on as invasive pro-Russian forces continue to occupy the Crimean Peninsula and gain more ground. Meanwhile, the U.S. is trying help stabilize Ukraine, not through military action, but better bookkeeping.
Entering their second week of aggression, both "pro-Russian militias and Russian troops" reportedly seized a military hospital in the city of Simferopol today. The Kyiv Post writes:
Some 20-30 men in military uniforms captured the military hospital at about noon today. They carried truncheons and threatened hospital workers and some 30 patients, who are Ukrainian soldiers or veterans.

"People are really fearing for their lives," said Evgen Pyvoval, the hospital's director. He said the captures crammed him into a bus and kept him there for 30 minutes. "We don't know what their demands are," Pyvoval said.
"About 10 unidentified armed men" also fired warning shots at a Ukrainian naval base today and demanded 10 military trucks, according to Reuters.
These are just the latest in a string of strategic locations Russians have captured or attacked on the peninsula, which President Vladimir Putin hopes to bring under his control. A former Ukrainian military officer claimed on Sunday that a Russian troops took one airfield and surrounded a checkpoint at another. On Friday, around 200 troops stormed a missile base, but eventually relinquished control back to Ukrainian personnel. On Wednesday, the Sydney Morning Herald reported that two more missile bases had "come under partial control by pro-Moscow forces" that day.
"Russian troops preparing to install air defense systems on the peninsula territory, which includes the use of air defense missile battalions of Ukrainian Armed Forces that are being planned to be taken over," explained Ukrainian Foreign Ministry spokesman Yevhen Perebyinis.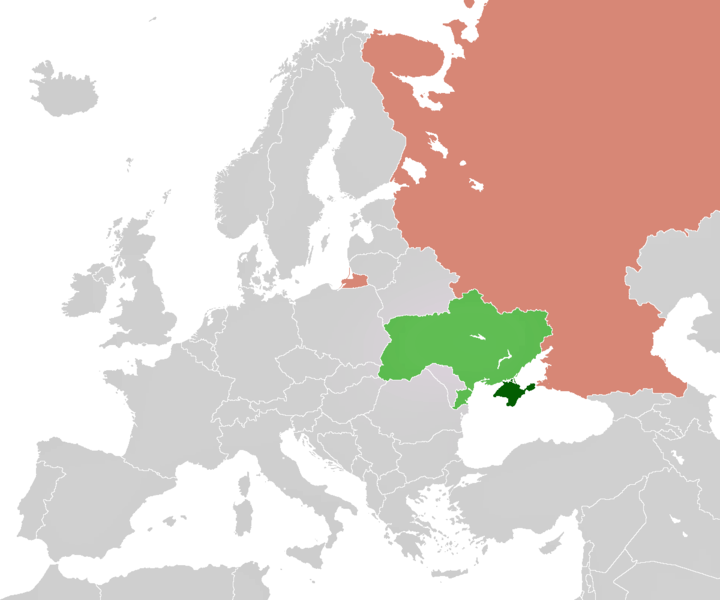 So far, Ukraine's government has resisted responding to these sieges with force, lest it provide Russia a casus belli as Georgia did in 2008.
And although the U.S. is flexing some military muscle by sending a warship to the Black Sea, it doesn't want to go too entangled. Instead, it is helping Ukraine's new government sort out the economic mess left behind by deposed president, Viktor Yanukovych. American Ambassador Geoffrey Pyatt said at a press conference today:
We have already on the ground here, in Ukraine, experts from the FBI, the Department of Justice and the Department of Treasury who are working with their Ukrainian counterparts to support the Ukrainian investigation… to uncover the financial crimes that were committed by the previous regime and to see what can be done to recuperate some of those assets (stolen from the state).
Ukraine's unrest, which began in November 2013, was sparked in part by a worsening economic situation. The nation's interim president is planning a trip to Washington to meet with President Obama this Wednesday.
For more Reason coverage of Ukraine, click here.