Washington's First Marijuana Licensee Talks About His Past and Plans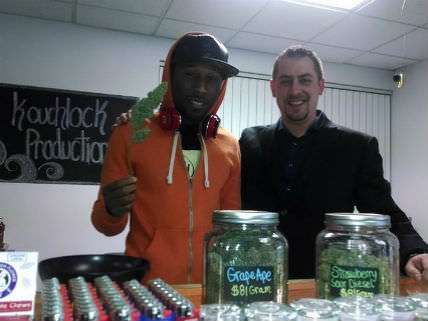 Today the Washington State Liquor Control Board issued that state's first recreational marijuana licenses: one for production and one for processing. Both went to Sean Green, chief executive of Kouchlock Productions, who was first in line when the board started accepting applications. Green, a former real estate appraiser, got into the medical marijuana business in 2011 and currently operates two dispensaries, one in Spokane and one in Shoreline, just north of Seattle. He plans to use his Tier 3 production license, which allows up to 21,000 square feet of plant canopy under current rules, for a grow operation in Spokane that will supply starter plants to other growers. In an interview last month, Green told me he has come a long way since his first forays into pot growing:
I dabbled a little bit. I was horrible at it. I grew the worst pot anybody ever saw, but I did it as a hobby. Back when I was younger I was interested in it. I got married, had kids, so I was hands-off. My ex-wife, she was diagnosed with Crohn's disease, so she got her doctor's authorization several years ago, and I started a very small-scale operation and grew the worst pot anybody ever saw. That was a few years before I got into the industry….

I built a grow room that had a window on a retail store, so every grower in the world comes through and wants to tell me how to do it better. Some actually know what they're talking about. So I just immersed myself in the culture with some of the world's best growers and learned as much as fast as I could, and now we're growing premium cannabis so it'll stand up next to the best of the best.
At one point, Green says, he decided to grow the World's Largest Indoor Pot Plant as a publicity stunt:
A year ago, a year a half ago, along the idea of a résumé, I decided to grow an extraordinary plant and showcase it for the world. The end result is we grew the world's largest indoor marijuana plant and showcased it for four months at High Times.

Guinness Book doesn't actually record plants. I checked. I reported it to them and I tried to get it logged, but they don't do plants….So High Times kind of becomes the record book for that. There's been nothing that has come close to the size of our plant. We measured it out at 10 foot, two inches across. Grown indoor. There are bigger outdoor plants, but from an indoor perspective this is the largest one on record.

It produces substantial amounts of cannabis, but it wasn't the most cost-effective way of producing. It was also grown to show our legislators, the rule makers, that plant count is the most ridiculous way to even consider regulating possession or production. You wanna give me five plants? OK, I'll grow 50 pounds. Give me one plant? I'll grow 30 pounds. You want to give me 1,000 plants? I'll grow 100 pounds. It doesn't really matter; we'll grow them as big as we need to. And since we get to manipulate the life cycle inside, I should grow a plant that's 100 feet across. Just vegetative growth for the next year, and it'll produce however many pounds. I have no idea how much one could produce, but really it's an endless possibility.
Now Green is sharing his hard-earned expertise, at a price:
My Seattle operation [is] a garden and retail store, and we're using that as the basis of a franchise and selling that idea to new [cannabis entrepreneurs]. Since the majority of this [new industry] is going to be outside world coming in with no experience, [we plan on] selling them the operational plan on how to use and run a garden and produce and generate profit or run a retail store and do the same….

My focus since the beginning and long term is to create a franchise and one day take that to the open, public market….We've got one retail and one producer on our franchise agreement. The goal here in Washington is 17 retail outlets and seven production facilities and, as we move into the future, 57 manufacturing facilities across the country with 78 retail outlets.