Brickbats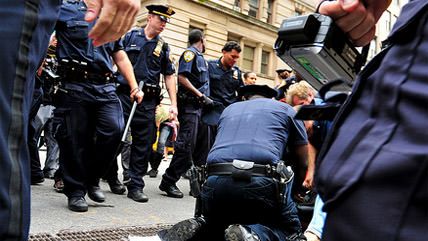 Australian Capital Territory health officials have forbidden parents to sell homemade foods containing meat or dairy at school fund-raising events.
The Spanish government has recommended raising fines for unauthorized street protests to a maximum of €600,000. Under the proposed measure, which has to be approved by the Spanish parliament, the maximum fine would apply only if protests turn violent, but demonstrators who cover their faces or make offensive remarks against the country could be fined up to €30,000.
Eric Lee, who has a concealed carry permit, went to check on a noise at a business he owned in DeKalb County, Georgia. Cops confronted him there, accused him of loitering on his own property, seized his gun, and towed his truck. A judge tossed out the loitering charge at Lee's initial appearance; now he is suing the police department after it refused to return his gun and reimburse him for the towing.
In Santa Fe County, New Mexico, Revina Garcia suffered a diabetic attack after a minor automobile accident, so she did not respond to deputies when they arrived on the scene. Believing she was intoxicated, the police smashed out the windows of Garcia's vehicle, dragged her out, handcuffed her, and left her face down on the pavement for about a minute before placing her in a patrol car.
In East Baton Rouge, Louisiana, Sheriff Sid Gautreaux has promised to stop arresting gay men for crimes against nature. Undercover sheriff's deputies had been meeting men in local parks and arranging to have consensual sex with them in private locations, then arresting them under the state's anti-sodomy law, which was declared unconstitutional after a 2003 Supreme Court decision. Gautreaux insists the stings did not target gays.
Michael Fisher, a teacher at Willie Ray Smith Middle School in Beaumont, Texas, has been fired after knocking out a 12-year-old boy. Reginald Wells made a joke about Fisher's favorite football team, and Fisher hit him in the shoulder. When Wells pushed him back, the teacher punched him twice in the face.
Rochester, New York, police arrested three high school basketball players for waiting for a school bus. The team was waiting on the sidewalk for the bus to take them to a scrimmage. An officer accused them of blocking foot traffic and ordered them to disperse. When some of them tried to explain that they were waiting for a bus that should arrive shortly, he arrested them for disorderly conduct. Their coach arrived as they were being handcuffed, and when he asked that they be released, the cops threatened to arrest him too.
Officials in Madison, Wisconsin, don't like the idea of hugging or cuddling for money. Police have threatened to raid the recently opened Snuggle House, which promises one hour with a professional cuddler for just $60. Authorities say that if the business isn't a front for prostitution, it is still likely to result in sexual assault.