Baltimore County Cops Rough Up Cameraman, Tell Him He 'Lost' Freedom of Speech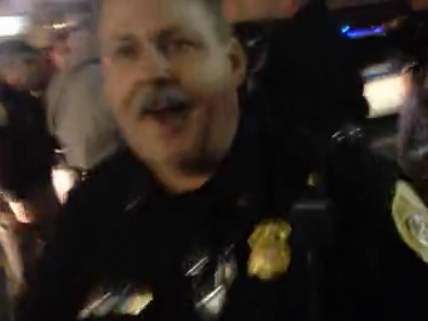 A Maryland videographer captured Baltimore County police making arrests outside a bar in Towson, Maryland. In the video, the camera seems to be at a safe distance from the action, and in no danger of interfering with the arrest. Nevertheless, in usual style, officers took exception to being recorded. A couple of super-sized keepers of the peace came over to verbally abuse the videographer for "diverting my attention," to physically abuse the videographer (you can see the camera shake and blur as a police sergeant grabs him), and to threaten arrest if he doesn't leave.
We're not fucking around. Do you understand? Do not, do not disrespect us. And do not not listen to us. Now walk away and shut your fucking mouth or you're going to jail.
Replies the videographer, "I thought I had freedom of speech."
"You don't," says the sergeant. You just lost it."
H/T Photography Is Not a Crime
Baltimore County cops doing their thing at the Towson bars. from Gootz on Vimeo.