California Pols Blame BB Guns, Not Militarized Cops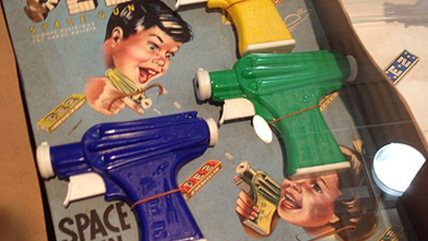 SACRAMENTO — One of last year's heartbreaking stories involved 13-year-old Andy Lopez, who was shot to death by a Sonoma County deputy sheriff in October after the deputy spotted him carrying a realistic-looking pellet gun. Deputy Erick Gelhaus said he called on Lopez to drop the gun, and shot him seven times as the boy turned toward the officer with the barrel of the gun rising.
The shooting continues to spark discussions about the proper use of force by police officers — especially after Lopez's parents filed a lawsuit alleging that county officials "were long aware of the propensity of defendant Gelhaus to recklessly draw his firearm and to use excessive force."
Given the high-profile nature of the Lopez case, one would expect the legislature to weigh in, especially given a number of other recent and troubling use-of-force incidents. But as often happens, legislators have come up with a "solution" that skirts the main issue. Legislators from both parties had different takes on the bill during an assembly debate, but both viewpoints seemed equally off the mark.
Senators passed SB 199 on a 23-8 vote. Authored by Sen. Kevin de Leon, D-Los Angeles, the bill avoids discussion of the deadly force issue, but instead would ban the type of toy weapon Lopez was holding. This seems to epitomize the legislature's approach to complex problems that involve firearms.
"This bill prohibits the sale of BB devices in California unless the entire exterior surface of the device is brightly colored or the device is transparent, as specified," according to the Senate analysis. The bill would include BB and pellet guns in the definition of imitation firearms, which under current law may not be publicly displayed.
Democratic senators argued that the proliferation of toy guns puts people at risk. "A toy should look like a toy," said Sen. Noreen Evans, who represents the Santa Rosa area where Lopez lived. "A toy should not get a child killed." She said that Lopez would still be alive today had this proposed bill already been law. De Leon asserted that realistic-looking guns don't belong on the streets.
In response, Republicans argued that violent gang members can paint their real weapons bright colors, which can endanger officers who think they are dealing with a toy. Sen. Steve Knight, R-Palmdale, said many real weapons already look like toys. So instead of clarifying matters, this can confuse them. If an officer sees a colored weapon, he can't assume with certainty that it's a toy.
Nor will an officer be able to assume that a non-colored gun is a real one. Not every kid will get the "memo," if the bill passes. There will still be those who tote realistic-looking pellet guns they already own. Will this increase the danger they face?
Perhaps the real problem is the current rules of engagement, in which police officials sometimes feel justified in opening fire if they think the toy is a real gun. There's little dispute that Lopez was walking down the street minding his own business. Gelhaus' attorney said the deputy believed the toy was a real AK-47. But witnesses have given varying accounts, with some alleging that the boy was never given a chance to drop the rifle.
Gelhaus has served as a training officer for the department. That touches on a key question: How are police officers taught to react in such a situation? It's not as if Santa Rosa (or most other California cities) is filled with AK-47-toting thugs who routinely open fire on police officers. It happens, but not nearly as often as incidents of kids playing with or carrying BB guns. Isn't it reasonable to wonder whether official policy mainly is to blame here?
Some of the most troubling recent police use-of-force issues have taken place where the victim had no weapon, real or make-believe. Granted, police officials aren't eager to open to legislative debate the broader issue of use of force policies, but that has a higher chance of hitting the right target than yet another plan to restrict another inanimate object.