Future Deficits Now Projected to be Even Bigger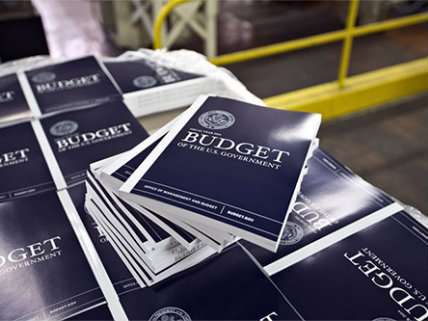 America's current budget deficits have shrunk dramatically over the past few years. But its future deficits are now projected to be bigger than previously expected. When the Congressional Budget Office (CBO) released its updated economic outlook earlier this week, it painted a gloomier picture than it did the previous year. The deficit is now projected to rise by $7.3 trillion over the next decade, a $1 trillion increase since the CBO's last estimates were published.
That's not great news. But it's actually worse than it sounds. As the budget analysts at the Committee for a Responsible Federal Budget explain, this actually understates the size of the increase.
That's because last year's deficit totals were artificially inflated because of a scoring convention that required the budget office to count $425 billion worth of one-time spending on Hurricane Sandy as a recurring annual expense. That assumption is gone this year, but it means that last year's 10-year deficit total was actually more like $5.9 trillion.
The projections worsen further if you update the time frame. Last year's projections looked at the 2014-2023 budget window. This week's report stretches from 2015-2024. Since annual deficits are now expected to grow at a greater clip, that makes for a bigger change. Here's the CRFB's graph showing the actual size of the change: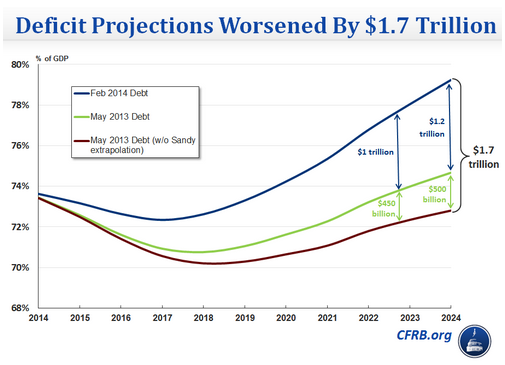 The main reason for the update is that the CBO now foresees slower economic growth over the next decade than it used to. "By 2017," the budget office report said, "CBO expects that economic growth will diminish to a pace that is well below the average seen over the past several decades." And the accumulating debt won't exactly help. The "large and growing federal debt" the CBO expects the nation to shoulder could have "serious negative consequences, including restraining economic growth in the long term."
So because economic debt is expected to slow, we'll take on more debt—which could slow growth even further. It's potentially a rather ugly feedback loop of slow growth and higher debt.