This Is How Government Builds Infrastructure
It's not pretty.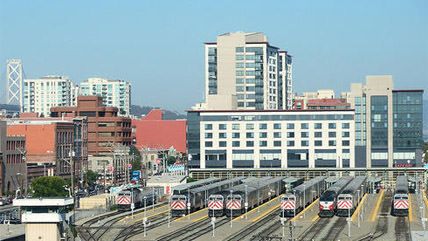 SACRAMENTO — Gov. Jerry Brown is gearing up for an infrastructure-building spree, as he hopes to create the nation's first high-speed-rail system and bore giant water-moving tunnels underneath the Delta. Before the state moves forward with these multibillion-dollar projects, however, Californians might want to look at how the state has built other recent projects.
They got a rare opportunity to do so in recent days, as the head of the state Senate's transportation and housing committee released a preliminary investigative report into the California Department of Transportation's years-long effort to build the eastern span of the San Francisco-Oakland Bay Bridge. The results are alarming.
"In the course of this investigation people with significant credentials have made serious accusations about critical components of the bridge regarding welds in the roadway decks and large bolts that fix critical bridge components," explained the report, commissioned by Sen. Mark DeSaulnier, a Democrat (and congressional candidate) from the East Bay.
"(T)here appear to have been chronic attempts to keep many of the serious safety allegations quiet," the report added. "Furthermore, this inquiry has come to the inevitable conclusion that there are legitimate concerns that this appears to be part of an institutionalized, if not malicious, lack of transparency in the project."
Caltrans officials depicted whistleblower allegations as "differing engineering opinions," said that questionable welds were certified and assured senators that the agency carefully addressed all safety concerns. The Caltrans director said the bridge is safe and exceeded standards. But the findings are just the latest in a series of construction controversies and cost overruns that have plagued this signature project since 2005.
During a Capitol hearing on Friday, one Caltrans engineer detailed his two-plus year effort to alert the agency to Caltrans employees who were falsifying tests on the bridge. After being ignored, he finally took his story to a newspaper reporter.
The new Senate report detailed an incident where an engineer with a quality-assurance firm found hundreds of cracks in welds and rejected them given that the contract called for no cracks. Instead of fixing the problem, the engineer said "his Caltrans supervisors told him he was being 'too rigorous' in his findings" and the agency eventually switched to another quality-control firm.
The Senate's bridge report also details the mushrooming budgets on a project with costs that soared from $1.4 billion to nearly $6.4 billion. Overruns are par for the course for large projects, but the lack of transparency on quality-of-construction issues is far more troubling.
Reports about Caltrans' problems are nothing new. A 2013 report from the California state auditor confirmed those media reports that Caltrans workers had falsified test data on various projects, thus casting doubt on their structural integrity. A 2011 state audit found that Caltrans was awash in overruns in support costs, has done little analysis on the matter and failed to inform "stakeholders of the overruns."
Yet the Caltrans director was reconfirmed a few months ago with only three dissenting votes. Two of the dissenters were San Diego-area Republican Sens. Joel Anderson of El Cajon and Mark Wyland of Solana Beach. An April memo from Anderson's office criticized Caltrans' culture of cover-up and detailed its many problems as well as the poor condition of the freeway system the agency oversees.
"I believe the oversight function is far too modest; it should be dramatically expanded," Wyland told me. "The fiasco of the Bay Bridge is a perfect example, which should engender an investigation and complete restructuring of Caltrans."
DeSaulnier said his goal was to come up with specific reforms, such as creating a place where state employees can take their concerns about safety free from retribution. But another lesson seems clear: Maybe the state ought to at least try to straighten out its main transportation agency before embarking on massive new projects.