Nordic Countries Increasingly Giving Welfare State the Cold Shoulder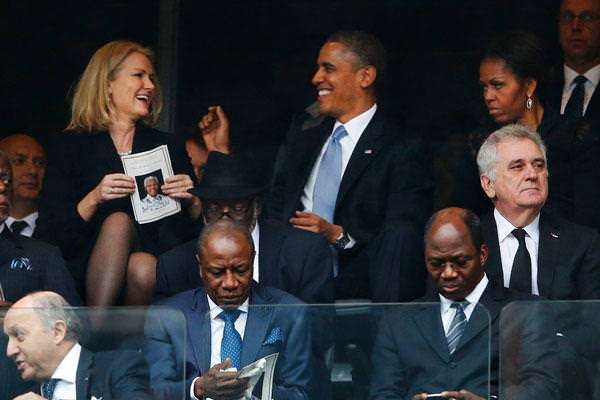 As Reason's J.D. Tuccille noted earlier today, putatitively socialist Swedes are increasingly turning to private insurance to reduce long wait times and rationed health care services. It's not simply in medicine that Sweden is moving toward market-based models. As Johnny Munkhammar detailed in 2005's European Dawn: After the Social Model, the country started cutting government spending as a percentage of GDP in the 1990s and that has proceeded apace.
Nor is it only Sweden that is giving a cold shoulder to the welfare state. AFP reports that throughout the Nordic countries, the size and scope of government is being cut as "nations find themselves cash-strapped." Consider, for example, Denmark, whose leader is best known to Americans for taking a selfie with Barack Obama at Nelson Mandela's funeral:
When her Social Democratic government took power in 2011, there was little to suggest Prime Minister Helle Thorning-Schmidt would make any dramatic changes to the country's cherished welfare state — funded by the world's highest tax burden.

After a centre-right government had raised the retirement age and reduced the unemployment benefits period from four to two years, "Gucci Helle" — as she is known among her detractors — went on to cut corporate taxes to 22 percent from 25 percent.

Other reforms have included requiring young people on benefits to undertake training, and withdrawing student aid to those taking too long to finish their studies.
Finland is moving to trim similar sorts of programs as well. According to AFP, only Norway is likely not to tackle serious entitlement reform because of its vast oil wealth and because, ironically, it's got a conservative government: "New centre-right Prime Minister Erna Solberg has pledged to preserve the welfare state."
Hat tip: Margaret (Griffis) O'Brien
Back in 2010, Reason TV surveyed Sweden's powerful moves to rein in government spending and liked what we saw. Watch "Sweden: A Supermodel for America?":