Kickstarting Utopia
Crowdfunding lets you route around the Man.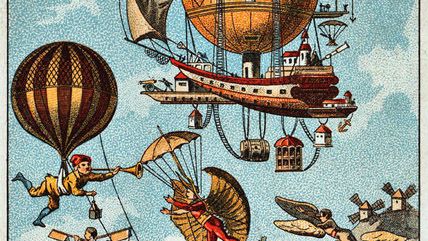 "The middle class is struggling," the longtime left-wing economics wonk Robert Reich notes in the 2013 documentary Inequality for All. Why? Because billionaires and corporations are bulk-purchasing congresspeople like tube socks at Target, undermining democracy and turning America's once-vital middle class into disenfranchised, exploited exurban serfs, trapped in a downward spiral. "If you don't have a voice, if you don't have power, you are vulnerable economically in society," Reich says. "You don't have anybody to protect you."
But even as the former secretary of labor paints this bleak portrait of contemporary American life, the movie that was constructed to showcase his argument provides a curious counternarrative. Inequality for All was partially funded by Kickstarter. In November 2012, its producers took to the revolutionary crowdfunding platform to ask for money to pay the film's editors, purchase archival footage, and compose an original score. A full 1,015 people came to their aid, contributing a collective $83,392. And thus, for a few weeks in the fall of 2013, Robert Reich's economically vulnerable voice rang out in select theaters nationwide.
The theater where I watched Inequality for All-the Balboa in San Francisco-was also a recent beneficiary of a Kickstarter campaign. This past September, 1,063 people contributed $101,957 to help the place purchase new digital projectors and a new sound system. When Reich explained that we are "losing equal opportunity in America," he sounded crisp, humane, vivid-and also a little dated, as if perhaps he hasn't changed his stump speech much since, oh, 1985.
"I've been saying much of the same thing for 30 years," Reich notes at one point. In that time, technology has been on a bit of a roll. First we got spreadsheets. Then we could obtain every song ever recorded for free. In the last few years, from a personal empowerment perspective, things have really been getting interesting. Airbnb helps you turn your couch into a profit center. Etsy and Shopify let you take on Walmart even if you have trouble calculating sales tax.
Finally, there are Kickstarter, Indiegogo, LendingClub, RocketHub, and countless other radically democratic platforms of alternative finance. Surely it's worth mentioning, somewhere among the lamentations over rigged games and middle-class voicelessness, that you can now get a home improvement loan, raise capital for your organic vegan food truck business, and in a few months, when changes in security regulations take effect, even recruit equity investors for your startup, all without ever rubbing shoulders with the dreaded 1 percent.
Crowdfunding, in short, is a big deal. It is also profoundly political. As a September report from a progressive think tank called the Roosevelt Institute notes, crowdfunding has its roots in the non-profit sector. One pioneer, DonorsChoose.org, raises money for school projects. Another, Kiva.org, provides microloans to entrepreneurs in developing countries (and now in the U.S. as well).
Kickstarter explicitly aims to depoliticize its platform, with its official guidelines explaining that the site "cannot be used to raise money for causes." Even so, it has evolved into a marketplace of considerable political expression, a place where aspiring entrepreneurs routinely stake their dreams on finding constituencies that are eager to support sustainable charcoal or upcycled messenger bags manufactured by U.S. military veterans.
Consumers have always voted with their wallets. But in a post-Kickstarter world, the crowd doesn't just dictate what gets bought. It dictates what gets made. And all it takes to be a part of this new powerful cabal is a few spare dollars.
To see the political implications of this in action, consider Mosaic, an Oakland, California, crowdfunding platform that relies on individual investors, rather than colorful signs held aloft at rallies, to bring power to the people. Mosaic was co-founded by Billy Parish, a climate-change activist who identified a lack of financing as one of the main factors impeding solar power's growth in the U.S.
While solar photovoltaic systems remain costly to install, solar leases, which have grown increasingly popular over the last decade, allow customers to purchase sun-generated power on a monthly basis from companies that cover the costs of setting up and maintaining the equipment.
Of course, these companies still need capital to install their systems, especially on commercial-scale projects designed to generate between 100 KW and 3 MW of power. "There's a gap in financing this size of solar project because virtually no small banks are familiar with solar and therefore do not offer financing," says Greg Rosen, Mosaic's chief information officer. "And most big banks with some knowledge of solar have high overhead costs and third-party diligence fees, and therefore focus on large financings greater than $25 million to cover their expenses."
Capitalizing on this gap in the market, Mosaic makes loans to solar providers seeking capital and generates capital itself by attracting individual investors online. Investors can loan as little as $25 to a project, and if everything works out as planned, loan repayment occurs on a monthly basis, along with annual interest rates ranging from 4.5 to 7 percent.
Mosaic makes money because it charges the solar providers a loan origination fee and 1 percentage point more interest than it pays to its crowdfunders. Once an installation is up and running, the solar provider begins charging its customers for the energy they consume. It uses this money to pay off its loan.
After beta-testing its platform with a handful of zero-interest loans in 2012, Mosaic began offering interest-bearing loan opportunities to investors in January 2013. By November, it had fully funded 18 projects, raising amounts ranging from $25,500 to power four units of senior housing in Novato, California, to $815,000 to power a bee farm in Red Bluff, California. All told, approximately 2,600 individuals have invested a collective $5.6 million in these projects.
Those numbers probably won't make polar bears breathe any easier, but Mosaic is only getting started. And even at this nascent stage it's a remarkable development. If you fervently believe that accelerating solar adoption is crucial to mitigating climate change, you can now vault past petitions and donations and go straight into building infrastructure, maybe even making a few bucks in the process. (Mosaic loans are unsecured. If a project runs into trouble, your investment could convert to unplanned philanthropy.)
Because of federal regulations, only residents of California and New York-or individuals who meet the U.S. Security and Exchange Commission's definition of an "accredited investor"-can invest in Mosaic. (To qualify as an accredited investor, you must have $1 million in net assets excluding your home, or annual income of $200,000 or more.) But even with these limits on potential participants-which may soon change, as the commission is developing new rules for crowdfunding-Mosaic's current challenge involves finding enough viable projects to meet user demand. "Half our projects sell out within one week of posting them," says Katie Ullman, Mosaic's communications manager.
Traditionally, the wealthiest members of society have had little trouble leveraging their resources. Those resources are highly concentrated and thus easy to strategically deploy when necessary. For the 99 percent, government provided a way to accomplish this too. Everyone pays taxes, and as a result, we get streetlights and Yellowstone National Park.
But taxation is a pretty crude form of crowdfunding. You don't get to choose the size of your contribution. You can't directly specify its intended use. And even though our tax system lacks the functionality of Kickstarter, participation is mandatory. When some senator-of-a-friend-of-a-friend decides he wants to follow his bliss and finally build that $2.2 billion dream dam he's been talking about all these years, you've got to chip in whether you like it or not.
Crowdfunding, in contrast, privileges hands-on, voluntary democracy. If you think the United States needs more solar infrastructure sooner rather than later, crowdfund it. If you think that service-sector jobs that pay livable wages are the key to widespread prosperity, crowdfund businesses that pay such wages.
For the allegedly disenfranchised 99 percent, it has never been easier to seek common cause with like-minded souls, to pool your resources, and to exert influence in strategic and tangible ways. You might even call this a shining age of middle-class empowerment. If anyone ever decides to make a documentary about it, the financing should be fairly easy to swing.