New Mexico Police Fatal Shooting of Woman After Car Chase Over "Perceived Moving Violation" That Local Cops Wouldn't Join Ruled Justified
Oliver Wilson shot at Jeanette Anaya and her car 16 times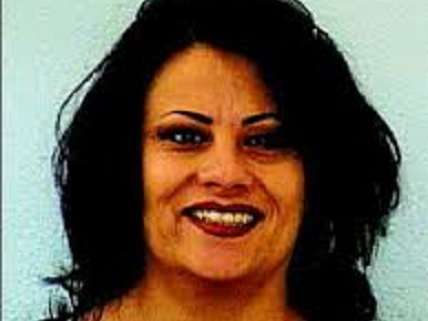 New Mexico state trooper Oliver Wilson shot at Jeanette Anaya and her car 16 times at the end of a pursuit that began over what the District Attorney says Wilson called a "perceived" moving violation. Although the DA said she did not see evidence of a moving violation, a grand jury which investigated only the moments before the shooting ruled the police officer's actions justified. Anaya, according to a surviving passenger in the car, as well as the DA, tried to avoid being stopped by police out of a fear of being arrested on a warrant for a "low-level concealing identity charge."
Despite the apparent lack of a justifiable cause to compel Anaya to stop in the first place, the DA appeared to blame the victim in the shooting, saying Anaya "was so fearful of getting arrested she lost her life, according to the Albuquerque Journal. As to the fact pattern surrounding the shooting, the Journal reports:
Before the shooting, officer Wilson used a driving maneuver to force Anaya's Honda sedan to stop on Camino Carlos Rey.

The State Police have said previously Anaya was "aggressively" backing toward the officer after he got out of his patrol car. Reconstruction of the incident and [passenger Jeremy] Munoz's testimony indicated that Anaya did in fact backup toward Wilson's car, said [district attorney Angela] Pacheco.

As Wilson got out of his patrol car at the end of the chase, Anaya "was revving the vehicle," Pacheco said in relating the officer's testimony, although she said Wilson's dash-cam video does not show Anaya's vehicle when it traveled in reverse toward him…

The officer, who's been with the State Police for less than two years, testified "he was in fear of his life and he was terrorized," Pacheco said.
Will Wilson face charges for forcing Anaya's car to stop despite appearing to lack a justifiable cause to? Don't count on it, even though local cops in Santa Fe refused a request to join the chase because the State Police could not provide a reason it was happening. The incident provides another tragic example of the need for stricter rules about when police are allowed to pursue vehicles, whether on open roads or in city traffic, especially for reasons as flimsy as "perceived" moving violations.
Most of the 16 shots Wilson fired at Anaya's car were while it was moving away from the officer, according to the DA, who suggested the copwas trying to stop her from fleeing. Anaya was fatally shot in the back and neck. A state toxicology report apparently found cocaine in Anaya's system, but the Journal says it wasn't mentioned in the DA's report on the grand jury's findings. Anaya's family's attorney wouldn't comment on whether a lawsuit was forthcoming.