Oops. Navy Sends Internal Memo About Dodging FOIA Requests to the Reporter They Were Trying to Thwart
Just a guess: Navy public affairs officer Robin Patterson, who was in charge of responding to this Freedom of Information Act (FOIA) request, probably didn't mean to send his her strategy memo about to how to dodge various aspects of the query for photos, memos, and emails to the reporter who filed the request. (Click to enlarge.)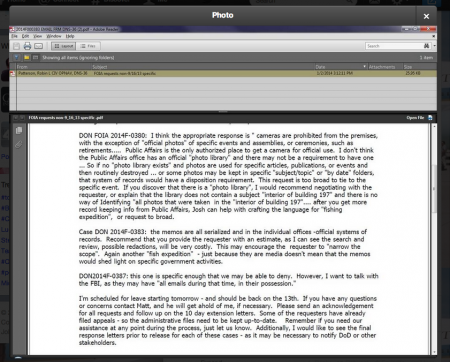 Some choice excerpts:
Again another "fish expedition" -just because they are media doesn't mean that the memos would shed light on specific government activities….

DON2014F-0387: this one is specific enough that we may be able to deny. However, I want to talk with the FBI, as they may have "all emails during that time, in their possession."…
Some of the requesters have already filed appeals—so the administrative files need to be kept up-to-date.
None of this is particularly egregious, actually. It just shows the generally oppositional and mildly grumpy attitude that is typical of government responses to FOIA requests. And how valuable Gmail's Undo Send button can be.