Where Will Cuomo Get His Medical Marijuana?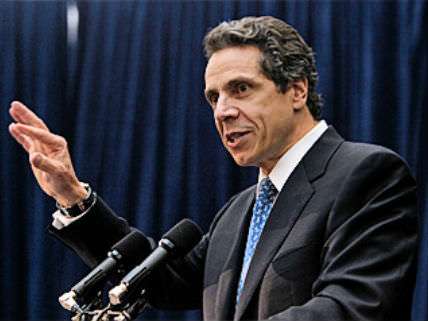 The New York Times reports that Gov. Andrew Cuomo, perhaps having noticed that four-fifths of New Yorkers support legal access to medical marijuana, has reversed his position on the issue. According to the Times, Cuomo will announce in his State of the State speech on Wednesday that he plans to make marijuana available to patients with specified conditions through a state-controlled distribution system. That system supposedly is authorized by an obscure law establishing something called the Antonio G. Olivieri Controlled Substance Therapeutic Research Program.
The New York law is one of several medical marijuana bills passed by state legislatures in the early 1980s, a period when even Newt Gingrich, later known as a hardline drug warrior, thought patients who could benefit from cannabis should be able to obtain it legally. In 1981, a few years after the federal government was compelled by a court order to start supplying a small number of patients with cannabis under the so-called Compassionate Investigational New Drug (IND) Program, the Georgia congressman introduced a bill "to provide for the therapeutic use of marihuana in situations involving life-threatening or sense-threatening illnesses and to provide adequate supplies of marihuana for such use." That bill never passed, but similar ones did at the state level. They typically did not amount to much because obtaining a legal supply of marijuana proved impractical.
It is not clear how Cuomo plans to overcome that obstacle. New York's law instructs the Department of Health to seek "an investigational new drug permit" from the Food and Drug Administration (FDA), meaning that legislators imagined the medical marijuana program would proceed with the federal government's blessing. It says the commissioner of health "shall obtain marijuana through whatever means he deems most appropriate, consistent with regulations promulgated by the National Institute on Drug Abuse, the Food and Drug Administration and the Drug Enforcement Administration." If proceeding with federal approval is not feasible, the law says, the commissioner "shall conduct an inventory of available sources" including "the New York State Police Bureau of Criminal Investigation and local law enforcement officials."
The Times notes that "state and federal laws prohibit growing marijuana, even for medical uses," so "New York will have to find an alternative supply of cannabis." It cites unidentified officials as saying "the likely sources could include the federal government or law enforcement agencies." The only source of marijuana that is authorized by federal law is the crop grown at the University of Mississippi for the National Institute on Drug Abuse (NIDA). That is the source of cannabis for the federal IND program, which the first Bush administration closed to new patients in 1992. In the unlikely event that NIDA agrees to share its pot, which would require approval from the FDA and the DEA, the program contemplated by Cuomo would be legal. But if he instead tries to use marijuana seized by "law enforcement agencies," as the Times suggests, he would be violating federal law. Likewise if the state tried to grow its own crop.
These schemes would violate the Controlled Substances Act in a way that merely exempting the medical use of marijuana from state penalties does not, because state officials would be directly involved in supplying marijuana. That is not the case in any of the states that currently allow medical use of cannabis, where cultivation and distribution are handled by private parties. At the same time, relatively few patients would benefit from Cuomo's plan.
The Antonio G. Olivieri Controlled Substance Therapeutic Research Program, named after a former New York City councilman and state legislator who used marijuana to relieve the side effects of cancer chemotherapy before dying from a brain tumor in 1980, is "limited to cancer patients, glaucoma patients and patients afflicted with other diseases as such diseases are approved by the commissioner [of health]." The Times says Cuomo's plan would "allow just 20 hospitals across the state to prescribe marijuana to patients with cancer, glaucoma or other diseases that meet standards to be set by the New York State Department of Health." Those rules are far stricter than the criteria used by states such as California and Colorado; the initial list of qualifying conditions is even shorter than the one used in New Jersey, which has one of the country's strictest medical marijuana laws. In short, Cuomo is planning a medical marijuana program that will be strictly limited but will probably violate federal law if it happens at all.
The Times notes that "medical marijuana bills have passed the State Assembly four times—most recently in 2013—only to stall in the Senate, where a group of breakaway Democrats shares leadership with Republicans, who have traditionally been lukewarm on the issue." Hence Cuomo "has decided to bypass the Legislature altogether." Whether he can actually do that remains to be seen.