Pussy Riot is Free! But They Aren't Russia's Key to Freedom.
There's a huge disparity between what American media is reporting and what Pussy Riot really stands for.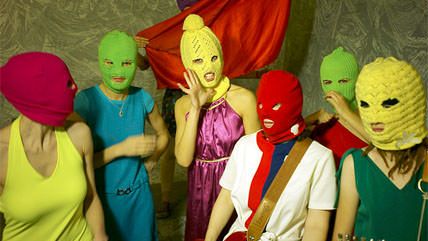 Pussy Riot is free! The western world has poured out support for these daring punk rock feminists in their pursuit for life, liberty, and so on and so forth in their underdog fight against Soviet Premier Bond villain Russian President Vladimir Putin, and you should be overjoyed. At least, that's the narrative dominating American media. Unfortunately, this reductive view of the affair overlooks the damage groups like Pussy Riot may do to the cause of freedom -- and the group's own disregard for liberal values.
It may surprise American readers to find out that Pussy Riot's own countrymen are hardly as sympathetic to the band's plight. The Levada Center, a major survey conductor, shows that few Russians think the women deserved little or no punishment. Often, the plurality believe the punishment was deserved or insufficient. Even educated, western-leaning, liberal, anti-Putin individuals look unfavorably upon them. The face of the political opposition, Alexei Navalny, derided Pussy Riot as "fools who commit petty crimes for the sake of publicity."
Let's recap what happened. In February 2012, a herd of ski-masked individuals stormed the Cathedral of Christ the Savior, one of the most venerated religious sites in Russia, called for Putin's removal from power, and sang anti-Christian insults.
Three members of Pussy Riot, Nadezhda Tolokonnikova, Yekaterina Samutsevich, and Maria Alyokhina, were charged with "flagrant violation of public order, expressing clear disrespect for society, committed… on the grounds of political, ideological, racial, ethnic or religious hatred or enmity or hatred or animosity towards any social group." This crime is punishable up to five years hard labor or seven years in prison. All three women were found guilty and sentenced to two years in penal colonies. An appeals court quickly released Samutsevich on probation. After serving over a year, Tolokonnikova and Alyokhina were also released, due to a federal amnesty bill.
The Russian government reminded the world why it ranks so poorly on so many freedom indexes, and the the Western world was quick to admonish the abuse of Pussy Riot's rights. Without a doubt, the two-year sentences were a gross overstep, demonstrating how willing Russia is to suppress dissident voices. Pussy Riot's release may have been abbreviated by the nation's legal standards, but their offensive-yet-harmless act never warranted imprisonment in the first place. A society that punishes civil disobedience so harshly is not a free society.
But American media has ignorantly deduced that because Pussy Riot is the enemy of our enemy, the band must be our friend. They frame the affair as clear-cut "good vs. evil" between Pussy Riot and Putin. GQ is not alone in painting these women as "freedom fighters." One might expect conservative outlets to be more critical of the anti-Christian antics, but even the National Review sides with the band.
Without a doubt, Pussy Riot should be free to express its beliefs without the fear of imprisonment, but they themselves are not freedom fighters. They have said contradictory things about freedom, but in no uncertain terms have described themselves "Trotskyists" and "anarchists" who are "part of the global anti-capitalist movement." Numerous times in the past, the women of Pussy Riot have also committed lewd and destructive acts as part of the "art terrorist" group Voina, which means "War."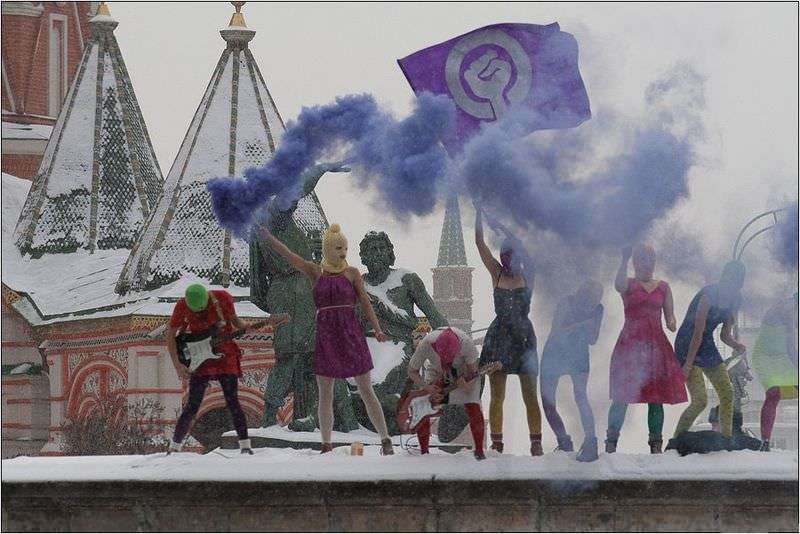 Terrorizing people, insulting their beliefs, and damaging property certainly doesn't mesh with America's sense of promoting freedom, and it makes one wonder how Pussy Riot would proceed if they could depose Putin. Would they suddenly embrace free minds and markets, or would they follow in the footsteps of their ideological forebearers and punish people they brand as dissidents? I'd cautiously guess the latter.
Even so, the Western audience might expect Russians to stand in solidarity with Pussy Riot and praise how much international attention they drew to the nation's troubled legal system.
At least in Pussy Riot's case, the band virtually guaranteed this would never happen. To understand why, one must understand that Russia's relationship with religion is quite different than America's, and it gives authority a much greater status.
Antagonizing the Orthodox Church is not popular, even among the youth. Orthodoxy formed the legal and cultural foundations of contemporary Russia over a thousand years ago. Religion was an integral part of national identity until the Soviets came into power. The communists persecuted Christians and even destroyed the cathedral (later rebuilt) where Pussy Riot protested. The Church again has widespread support, and is far more popular than Putin.
Pussy Riot also represents chaos, and Russians do not like chaos. Throughout history, they have put faith in strongmen-type leaders to prevent it. Chaos, for Russians, is a bogeyman, and the wound of chaos has been reopened in the lifetime of most Russians. In the 1990s, the nation was subject to the lawlessness of widespread organized crime and domestic warfare. And, the threat of a nation destabilized by terrorism is far more real for Russians than it is for Americans. The nation has seen many terrorist attacks, and continues to be subject to bombings. Pussy Riot's "propaganda by deed" rubs Russians about as well as bomb threat hoaxes did Americans post-9/11.
Whether or not correlation implies causation, Putin's ascent to power has generally marked the reemergence of a stable, prosperous, and internationally important Russia, and citizens are unfortunately willing to compromise their rights for that kind of security. Pussy Riot's antics were at best a garish parody of Western secular values, and at worst a reminder of darker, more chaotic times in their own history. It is no surprise that the average Russian thinks far more favorably of Putin than Pussy Riot.
Americans are right to criticize the Russian government for trampling human rights. But, if we want to work toward greater freedom throughout the world, we may first want to focus on our own shortcomings (some of which are not unlike Russia's). Then, if we hope to have a positve impact on another nation, we should understand that the antics of groups like Pussy Riot may actually be counterproductive.