Anarchy in Detroit
Lawnmowers, private police, and an autonomous island in the Motor City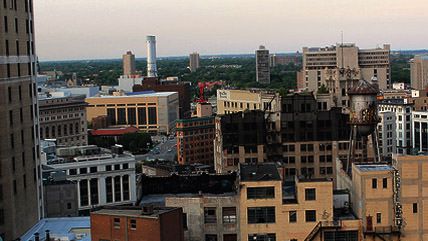 (ann-millspaugh-cc-by-sa)
Tom Nardone is the founder and president of the thriving e-commerce site, PriveCo, which specializes in products that customers don't want their friends and neighbors to know they're buying—vibrators, enema bags, hair loss treatments, etc. Three years ago, Nardone started applying his entrepreneurial expertise to a different problem: the dreadfully maintained parks in his hometown of Detroit, Michigan. Weeds and trash have transformed Detroit's playground jungle gyms into actual jungles.
Nardone knew it was no use approaching the city's hapless Department of Recreation, so he brought his ride-on lawnmower down to a public park and got to work. Then he invited some friends to join him. "When the first person showed up, I was like, 'OK, I guess someone's as crazy as I am.'" So the Mower Gang was formed, a group of volunteers sporting skull-and-crossbones insignia. They gather every week at a different stretch of neglected parkland to drink beer and mow.
Detroit's future, to put it mildly, looks bleak. About one-third of its 138 square miles are deserted, it has no tax base, and its schools are horrendous. Last year, one in every 1,800 residents was murdered. In July, the city filed for bankruptcy, and politicians, unions, and investors are currently slugging it out in court, grasping for whatever little cash remains in the Motor City's coffers. But the Mower Gang is just one example of how individuals all over the city are taking it upon themselves to make life better.
Another example is the Detroit Threat Management Center (TMC), a private security firm that provides a range of affordable public safety services, including car-to-front door escorts, security details, and neighborhood patrols. "I attribute the bankruptcy and all the economic issues to a lack of safety," says TMC president Dale Brown. "If you don't feel safe, why would you invest here?"
A handful of squatters' villages and experiments in alternative living are blossoming among the ruins. Fireweed Universe City is a block of funky-colored houses started by a community of anarcho-communists. Another group, Free Detroit, is planning to buy up blocks of city land to be occupied by libertarian enclaves where anything goes, as long as it doesn't violate the group's nonaggression principle.
If these ventures sound idealistic, outrageous, and awesome, they pale in comparison to the scale and ambition of a project conceived by real estate developer Rod Lockwood. He has outlined plans to buy Belle Isle, a 982-acre public island park in the Detroit River, and transform it into an independent commonwealth with its own laws, regulations, and taxes (or lack thereof). Investors would buy the island from the city for $1 billion and then sell lifetime citizenship for $300,000. The extra $1 billion would help the city pay off its debts, and the lax regulations and low taxes would act as a magnet for investment, says Lockwood.
"We would expect a quarter of a trillion dollars in capital would be brought onto the island," says Lockwood. "Detroit would have its own Singapore in its backyard."
Will any of these small-scale, bottom-up initiatives provide the magic spark that reignites the Motor City? Probably not. But acting together, committed individuals are the only ones with the power to lead Detroit in a long, slow climb back from the brink.