65 Percent of Americans Say Online Poker Should Be Allowed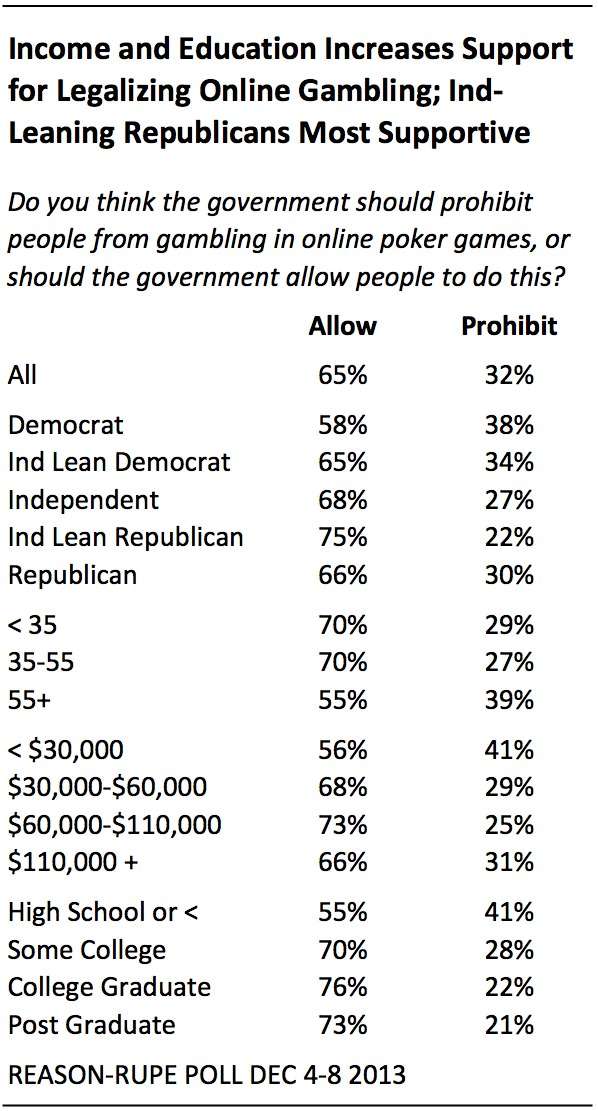 The Wall Street Journal reports that if fully legalized, by 2020 online gambling will generate the same amount of revenue as Las Vegas and Atlantic City combined: $9.3 billion. While online gambling can be made legal at the state level, Congress is considering several bills to legalize it nationwide. The latest Reason-Rupe poll finds that a solid majority (65 percent) of Americans favor legalizing online gambling, while 32 percent think government should prohibit people from gambling in online poker games.
Majorities of all partisans favor allowing Americans to play online poker, but independents who lean Republican were even more likely to favor (75 percent) allowing people to play online poker and Democrats were the least likely to favor (58 percent). Regular Republicans (66 percent), non-partisan Independents (68 percent) and independent-leaning Democrats (65 percent) also favor legalizing online poker.
Lower-income Americans and those with a high school degree or less are most likely to favor banning online gambling (41 percent), but still 56 percent would favor legalization. In comparison, only 21 percent of post-graduates and 31 percent of high income Americans favor the ban, (73 percent and 66 percent favor legalization respectively).
Support for legalized online gambling decline with age; roughly 70 percent Americans under 55 favor legalization compared to 56 percent of those over 55.
Nationwide telephone poll conducted Dec 4-8 2013 interviewed 1011 adults on both mobile (506) and landline (505) phones, with a margin of error +/- 3.7%. Princeton Survey Research Associates International executed the nationwide Reason-Rupe survey. Columns may not add up to 100% due to rounding. Full poll results, detailed tables, and methodology found here. Sign up for notifications of new releases of the Reason-Rupe poll here.