New Washington, DC, Food Truck Rules Are (Mostly) Good (So Far)
One week in, I'm cautiously optimistic about the District's new food truck rules.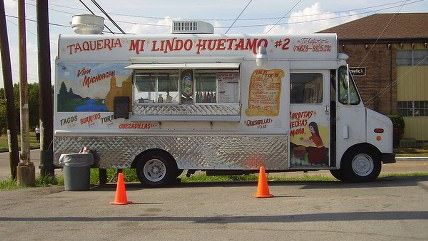 (Foter.com / CC0 1.0 Universal (CC0 1.0) Public Domain Dedication)
This week marked the launch of new rules in Washington, DC that are intended to put an end to years of rancor between the District's food trucks and their supporters on the one hand and regulators and the restaurant lobby in the District on the other.
If the first week under the new regulations is a harbinger of the long-term impact of the rules, then I'm cautiously optimistic.
As the Washington Post's Tim Carman reported this week, formerly arcane rules meant that food trucks in the District were constantly under fire, forced to find haphazard parking solutions when they'd rather have been serving customers.
"In the past at places such as Farragut Square, passenger cars (sometimes even cabbies who might charge $25 for a prime spot) would hold spaces until food trucks arrived," writes Carman. "Parking enforcement officers would ticket trucks less than a minute after the meters expired. And the truck operators would conduct private deals to switch parking spots and extend their vending time beyond the two hours allowed on the meters."
Among other changes, the new rules allow food trucks to enter into monthly lottery system for designated parking spots. Those that choose not to take part—or that don't win a particular lottery—are free to park in non-lottery spots, which are often the same spots they'd have parked in anyways.
Perfect? No. Better than the earlier threats of cabbie bribes and parking tickets? Of being forced to abandon a parking spot and drive in circles for the theater of it all? I think so.
The new rules are also far better than rules the DC Council considered adopting this past summer, rules I wrote in a DC Examiner op-ed were "arbitrary and punitive [and] could kill off the District's vibrant food truck scene." Indeed, they're better, too, than rules the same Council considered in 2012 (and which I criticized in a Huffington Post column).
How do others perceive the new rules? I tracked down several of the key players in the District by email this week and found my cautious optimism is shared by leaders in the two major camps (food trucks and brick-and-mortar restaurants) alike, along with their supporters.
"I think the first three days have gone fairly well from the food truck operators' and from the customers' perspective," says Doug Povich, co-owner of the Red Hook Lobster Pound truck and head of the District's Food Truck Association, in an email to me. "We appreciate not having to jockey for parking spaces or feed the meters. Plus being able to vend for more than 2 hours fits better with the length of our service periods. And vendors who choose not to vend in the [lottery spaces] can still operate as we did in the past. Customers I think appreciate seeing different vendors at each location each day of the week."
Povich's fellow association member Che Ruddell-Tabisola, co-owner of the BBQ Bus food truck, emphasizes that point.
"[F]ood truck owner-operators can choose to serve at one of the city's managed locations or instead go almost anywhere else in the District food truck fans ask them to," he tells me by email, referring to this crucial fact as "underreported."
"The regulations that were issued certainly are not perfect," says Bert Gall, senior attorney with the Institute for Justice, also by email, "but they are far superior to the version that RAMW [the Restaurant Association of Metro Washington] and the Mayor were pushing; that version would have caused catastrophic damage to the D.C. food truck industry."
But it's not just food truck owners and their defenders who seem reasonably happy with the rules.
"We're pleased with the initial reports that we've read and heard," says RAMW president and CEO Kathy Hollinger, in an email to me. "From what we can tell, consumer choice has been preserved and food truck operators have been able to focus on growing their business rather than fighting for parking spaces."
These seemingly positive changes in rules governing food trucks in the District, and their positive outcomes, may be part of a larger national development.
As I told the ABA Journal (published by the American Bar Association) last month, what once looked like an overwhelming regulatory climate stacked against food trucks might in fact be turning for the better.
Why? All sorts of people and groups, I said, are "starting to push back and maybe even reverse that trend."
Still, it's important to remember that the new District rules aren't perfect.
Some District food truck vendors are also detractors. And Povich tells me the food truck association is "still waiting for permanent signage and have some ideas about how to tweak the system to provide a bit more flexibility for vendors who want to swap location[.]"
Despite these hurdles, Povich appears confident.
"Ultimately," he tells me, "I think the new system will be a tremendous benefit to the City, food truck vendors and customers."