How Do You Charge an Unarmed Man with Shooting People? Get the NYPD Involved.
Police open fire on man, hit bystanders, and DA charges him with the crime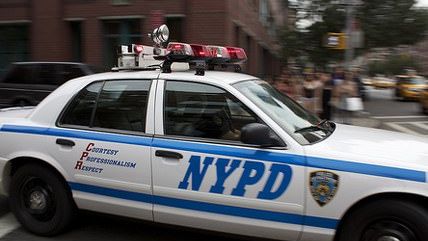 (Giacomo Barbaro / Foter.com / CC BY-NC-SA)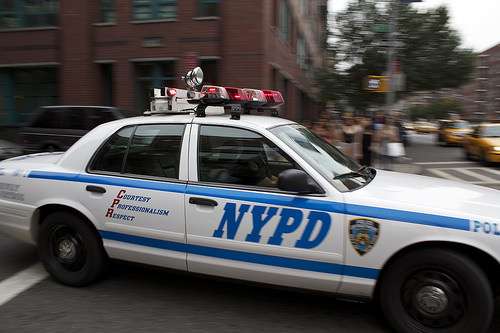 In September, New York Police officers responded to an emotionally disturbed man causing a ruckus at a Times Square bus terminal by opening fire on him while they were surrounded by crowds and traffic. They missed him and hit two innocent bystanders (one of whom was in a walker). Police said at the time they thought the man, Glenn Broadnax, was reaching for a gun, but he turned out to be unarmed.
Even though Broadnax was not armed, an indictment unsealed Wednesday is charging him with assault for the injuries caused by police gunfire. From the New York Times:
The man, Glenn Broadnax, 35, of Brooklyn, created a disturbance on Sept. 14, wading into traffic at 42nd Street and Eighth Avenue and throwing himself into the path of oncoming cars.

A curious crowd grew. Police officers arrived and tried to corral Mr. Broadnax, a 250-pound man. When he reached into his pants pocket, two officers, who, the police said, thought he was pulling a gun, opened fire, missing Mr. Broadnax, but hitting two nearby women. Finally, a police sergeant knocked Mr. Broadnax down with a Taser. …

Initially Mr. Broadnax was arrested on misdemeanor charges of menacing, drug possession and resisting arrest. But the Manhattan district attorney's office persuaded a grand jury to charge Mr. Broadnax with assault, a felony carrying a maximum sentence of 25 years. Specifically, the nine-count indictment unsealed on Wednesday said Mr. Broadnax "recklessly engaged in conduct which created a grave risk of death."

"The defendant is the one that created the situation that injured innocent bystanders," said an assistant district attorney, Shannon Lucey.
Broadnax was taken to Bellevue Hospital after they got him down and told police he was hearing voices of dead relatives and was trying to commit suicide. But a psychologist has nevertheless found him competent to stand trial.
One of the women shot by the police is absolutely not having it:
Mariann Wang, a lawyer representing Sahar Khoshakhlagh, one of the women who was wounded, said the district attorney should be pursuing charges against the two officers who fired their weapons in a crowd, not against Mr. Broadnax. "It's an incredibly unfortunate use of prosecutorial discretion to be prosecuting a man who didn't even injure my client," she said. "It's the police who injured my client."
New York City spends hundreds of millions of dollars every year settling claims against the city (though not all are tied to police behavior). Despite trying to redirect responsibility Broadnax's way, it should not be a surprise to see six figures or more of city money heading in the direction of Khoshakhlagh and the other woman shot.