Higher is Healthier?
Psychedelic science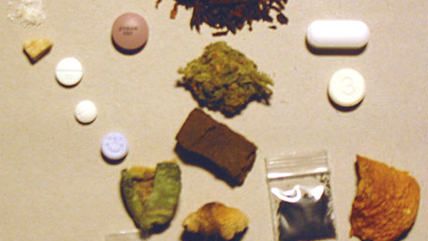 Despite what you might have learned from old government-sponsored black-and-white educational films or hippie-era exploitation flicks, psychedelic drugs do not drive you inexorably insane. A new study in PLoSOne, an online peer-reviewed journal from the Public Library of Science, examined survey results from over 130,000 U.S. adults, more than 21,000 of whom had used psychedelics, and found there are "no significant associations between lifetime use of any psychedelics, lifetime use of specific psychedelics (LSD, psilocybin, mescaline, peyote), or past year use of LSD and increased rate of any of the mental health outcomes" they examined.
Those prospective bad outcomes included "serious psychological distress…mental health treatment…symptoms of eight psychiatric disorders…and seven specific symptoms of non-affective psychosis." In "several cases," neuroscientists Teri S. Krebs and Pal-Orjan Johansen of the Norwegian University of Science and Technology actually found "psychedelic use was associated with lower rate of mental health problems." Psychedelic users also had higher educational attainment and income than non-users.
The study was restricted to surveys from 2001 to 2004, so it did not include a longitudinal study of possible lifetime effects, positive or negative. But Krebs told Science Newsline that "over the past 50 years tens of millions of people have used psychedelics, and there just is not much evidence of long-term problems."