15 Internal Affairs Investigations in Two Years and Officer Sterling Wheaten Is Still Employed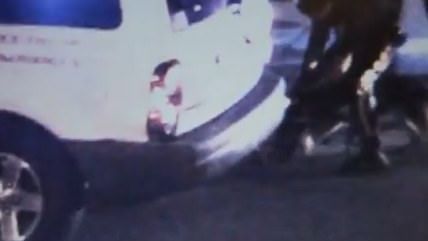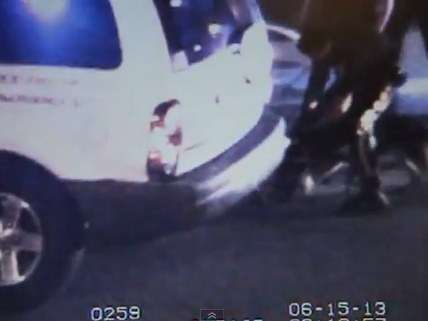 Sterling Wheaten, a K9 handler for the Atlantic City, New Jersey, Police Department, has a special talent for making unpleasant waves without consequences—so far. Only five years on the job, and he's been named in half-a-dozen lawsuits, and investigated (but "exonerated") repeatedly by Internal Affairs. Now, just months after siccing his dog on a man who was already lying on his face on the ground after being pounded by other police officers (see the image at right), he's accused of jumping and arresting a woman because she videorecorded him roughing up her brother.
From Comcast SportsNet Philadelphia:
[Janine] Costantino says Wheaten arrested her brother after he got into an altercation with another patron.

"Wheaten had my brother in a headlock and his arms were limp and his legs were weak," Costantino said. "I screamed out that it was police brutality and that I was videotaping it all."
That's when she claims Wheaten turned on her.

"He was running at me and he says, 'Give me the phone you b**h,'" she said. "He grabbed my bun and he was slamming my forehead into the floor."

Wheaten then arrested Costantino but court records show the charges against her were later dropped. Costantino says she'll never forget what one officer told her the night of the incident.

"He's like, 'Oh, that's your first mistake,'" she said. "You shouldn't be videotaping police officers."
Wheaten is one of six officers under investigation for using excessive force against 20-year-old David Connor Castellani. Castellani had been ejected from a casino for being under age. Surveillance video of the incident (see below) shows him mouthing off at the cops as he walked away. Apparently wounded in their pride, the cops rushed him (he was across the street) and laid into him with fists, feet, and batons. Late-arriver Wheaten let his dog do the work after Castellani was down.
From Wallace McKelvey at pressofAtlanticCity:
Atlantic City officials and activists called for increased scrutiny Tuesday as more allegations of excessive force surfaced about one of six police officers recorded on video allegedly beating a 20-year-old Linwood man this summer.

David Connor Castellani filed a lawsuit against the city, its police department and six officers Tuesday in U.S. District Court in Camden.

On June 15, Castellani was removed from the Tropicana Casino and Resort. A short time later, at 3:10 a.m., Tropicana surveillance video obtained via subpoena showed him being tackled by police, with a K-9 released on him. Castellani's injuries required 200 stitches and ongoing physical therapy, family members say. …

At least six other lawsuits filed in the last three years allege that Sterling Wheaten, the K-9 officer seen in the video, abused his power during the course of arrests. Wheaten graduated from the Atlantic County Police K-9 Academy this May. Tracy Riley, his attorney, did not immediately respond to a request for comment. One of the lawsuits was dismissed and another settled out of court.
That article details the six lawsuits naming Wheaten and predating the Castellani lawsuit, alleging such acts as punching, beating, and throwing people down stairs. One plaintiff also claims that Wheaten attacked him with a police dog.
The Comcast report refers to "an internal police report which shows that Atlantic City Police internal affairs investigated Wheaten 15 times between 2008 and 2010 for allegations of misconduct, some of those allegations being excessive force. Each time however, the department concluded Wheaten did nothing wrong or that there was not enough evidence to clearly prove he did something wrong."
McKelvey says there are "21 complaints against Wheaten over a three-year period" and that complainants included then-Chief John Mooney and Deputy Chief Henry White. White alleged excessive force and Mooney complained of "simple assault and standard of conduct."
The former police chief and the deputy chief complained about Wheaten and he's still on the job? You have to wonder just what kind of photos he has filed away. And how long the people of Atlantic City will have to tolerate him and his buddies.
Update: Costantino's phone is MIA, along with her video. According to a pressofAtlanticCity report:
"Wheaten stood up and handed the phone to a smaller man in a plaid shirt and said, 'you got this?'," the suit reads. "To which the man in the plaid shirt said in sum and substance, 'yah, I'll take care of it. Don't worry'."

That man, also unidentified in the suit, allegedly put the phone in his pocket and walked away. The phone was never recovered after the arrest.
So we'll have to make do with video of the Castellani incident.