What Mitch McConnell's Dam Deal and Frank Lautenberg's Death Benefit Tell Us About Govt Spending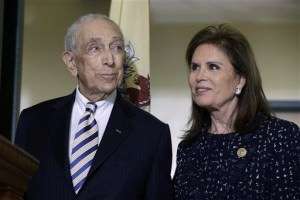 With the government shutdown over and the debt ceiling increased yet again, business is returning to normal in Washington, D.C. (at least until the stopgap measure needs to be extended yet again).
While the whole deal does nothing to address serious fiscal issues, at least two parts of the much-lauded deal are worth pausing over, though. They define how the federal government treats taxpayer dollars.
First is the matter of a payment of $174,000 to the widow of the deceased Sen. Frank Lautenberg (D-N.J.). This is not special treatment, explains The Federal Times. Since before World War II, Congress has authorized a death benefit equal to a year's pay to the survivors of deceased members.
What is different in this case is that Lautenberg was loaded:
Frank Lautenberg died in June at age 89. After rising from childhood poverty to lead the Automatic Data Processing payroll management company, Lautenberg was numbered among the Senate's wealthiest men, with a net worth of at least $57 million, according to his most recent financial disclosure report.
The payment to Mrs. Lautenberg is thus a microcosm of how today's welfare state works. In the cases of Social Security and Medicare, it takes tax money from the relatively young and the relatively poor and gives it to the relatively old and relatively rich. Except when it gives money to the objectively old and objectively rich.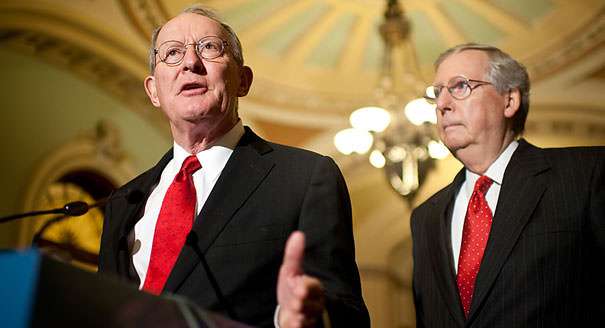 Second is the matter of Senate Minority Leader Mitch McConnell's dam, which puts a lie to the idea that there were no Republican winners in the deal to end the shutdown. As Yahoo's Eric Pfeiffer writes,
The nation's leading Republican senator came out of the deal far from empty handed. That's because it's been reported that Senate Republican leader Mitch McConnell secured language in the new government funding bill that includes nearly $3 billion for a dam project in his home state of Kentucky.

According to reports, a provision in the funding bill includes $2.918 billion in funding to the Army Corps of Engineers to install locks as part of the Olmsted Dam and Lock Authority Project on the Ohio River.
This is part of a project that is already behind schedule. It started out with a pricetag of "just" $755 million. Surely it will help McConnell's re-election gambit. To add insult to injury, here's a statement from Sen. Lamar Alexander (R-Tenn.), whose own state will also benefit from the project:
"According to the Army Corps of Engineers, 160 million taxpayer dollars will be wasted because of canceled contracts if this language is not included. Sen. [Diane] Feinstein and I, as chairman and ranking member of the Energy and Water Appropriations Subcommittee, requested this provision."
Protecting $160 million in canceled contracts by spending only $3 billion? Can the rest of us get in on that action, Lamar!
These two appropriations are worth keeping in mind as the clock starts ticking on the current CR that will keep the government open til mid-January.