Come See Jonathan Rauch Talk About the 20th Anniversary of Kindly Inquisitors in New York Tonight at the Museum of Sex!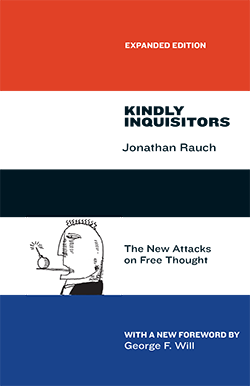 Twenty years ago, the great classical liberal journalist Jonathan Rauch (see his Reason archive here) wrote arguably the best modern defense of free speech: Kindly Inquisitors: The New Attacks on Free Thought. Now, the University of Chicago Press is bringing out an expanded 20th anniversary edition, featuring a new forward by George Will and a new afterword from the author, an adaptation from which we'll be running in the December issue of Reason.
Tonight, beginning at 6:30 pm at the OralFix bar in New York's fabulous Museum of Sex, Reason and the Foundation for Individual Rights in Education (FIRE) are proud to bring you a conversation between Rauch and New York Times science writer John Tierney, discussing how the free-speech battle has changed for the better and worse in the last two decades.
The venue is at 233 Fifth Avenue (at East 27th); the bar is downstairs through the gift shop, and there will be snacks and adult beverages. RSVP is a must, at reason.nyc@reason.org.