Judge Dumps Minnesota Funeral Home Red Tape as "Irrational Policy"
A bad policy is now pushing up daisies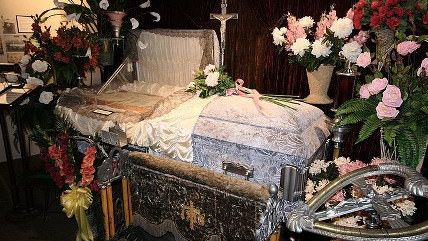 MINNEAPOLIS — Requiring funeral homes to install expensive equipment it will never use is an "irrational policy that serves no legitimate governmental objective," a Minnesota judge says.
On Wednesday, Judge John Guthmann ruled in favor of plaintiffs who were challenging an onerous state law requiring funeral homes to install equipment for embalming dead bodies, even when those funeral homes do not use the equipment. The requirement stifles competition and increases prices for consumers by requiring funeral homes to spend $30,000 on unnecessary equipment, the plaintiffs in the case argued.
In striking down the embalming room requirement, Guthmann said it "constitutes an irrational exercise of the state's police power" and violates the state constitution.
The challenge was brought by Verlin Stoll, who owns and operates Crescent Tides funeral home in the Minneapolis suburbs. He performs low-cost, no-frills funeral services and claimed the state law was harming his business model.
"The result is great for us and I am confident it will also open doors for entrepreneurs in other areas who are crushed by pointless requirements in their industries," said Stoll in a statement.
Stoll's funeral home provides funeral and burial services for $1,600, far less than the average cost of $4,000 for the Twin Cities. He has embalming equipment — though he does not use it — at his first location, but he wanted to expand to a second location without having to spend $30,000 on more pointless equipment.
The case went to trial in March.
In court, the Minnesota Department of Health argued the requirement was necessary to protect public health.
But during the trial, experts provided by the department admitted that there was no benefit to having embalming equipment in a funeral home if it was never used. There is no requirement in state law for corpses to be embalmed, and funeral homes are allowed to outsource embalming services to third parties.
Since Stoll outsources all of his embalming to third parties, there is no reason for him to install the expensive, and useless, equipment, Guthmann wrote in the ruling.
"This ruling affirms that the government can't make you do useless things just to be in business," said Katelynn McBride, an attorney with the Institute for Justice, a libertarian law firm that represented Stoll in court.
In defending the law, the department also tried to argue that the embalming room requirement helped prevent fraud by ensuring only legitimate funeral homes entered the market, but Guthmann said that claim seemed "to have been condensed out of thin air with absolutely nothing to back it up."
The state Department of Health declined to comment on Wednesday's ruling. It has 60 days to file an appeal.
Odd and unnecessary laws for funeral homes have been under assault in several states in recent years.
Last year, a federal judge in Pennsylvania struck down 11 parts of the state funeral code — including a similar requirement for embalming rooms in all funeral homes — as a "protectionist regime" that served to stifled competition and unnecessarily increase prices for consumers.
In his ruling, Guthman pointed to the Pennsylvania case as a reason to ax the Minnesota regulation.
Wendy Jerome, a board member with the Minnesota Funeral Consumers Alliance, a co-plaintiff in the case, said the ruling was a victory for all Minnesotans because it would help lower prices and increase competition in the funeral industry.
"I think it will open up the opportunity for more funeral homes to do what (Stoll) is doing," Jerome said. "It think that will open up the way for more competition and prices to lower in general."
This article originally appeared on Watchdog.org.