Israel Expresses Concern Over Significant US Suspension of Military Aid to Egypt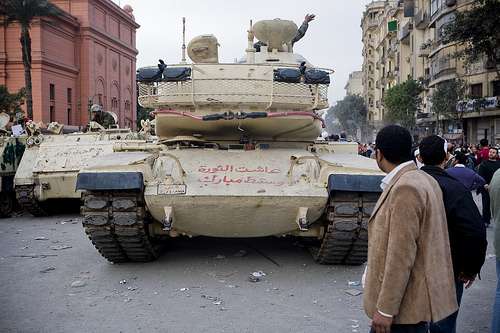 The Obama administration's recent decision to suspend much its military aid to Egypt has been criticized by the military-backed Egyptian government.
From the BBC:
Egypt has criticised a decision by the US to suspend a large part of the $1.3bn (£810m) in aid it receives, following months of political turmoil.

A government spokesman in Cairo said the move was wrong and Egypt would "not surrender to American pressure".

The US said this week it was suspending the delivery of large-scale military systems and withholding cash support.
The New York Times reports that Israeli officials responded with "a mixture of disappointment and alarm" to the news:
Israel views the aid as part and parcel of its 1979 peace treaty with Egypt, and essential to the maintenance of stability in the region.

Israel has been involved in the Obama administration's discussions on the cuts. Israeli officials refused to comment publicly on the matter on Wednesday, in part because there had been no official announcement yet from Washington.

But one Israeli official, speaking on the condition of anonymity because of the delicate diplomacy involved, warned that the implications of punitive cuts in Egypt's aid could go far beyond the issue of Israeli-Egyptian relations. The United States is playing with fire, he said.
Unfortunately, the peace treaty between Israel and Egypt relies heavily on the Egyptian military being supported by the U.S. However, the suspension of aid does not affect aid aimed at improving the security situation in the Sinai Peninsula, the region that borders Israel and the Gaza strip. Last month, the Egyptian military stepped-up its efforts against Islamic militants in the Sinai Pensinsula, who are a threat to Israel's security. The New York Times reports that since President Morsi's removal Israel and Egypt have enjoyed greater cooperation when it comes to security matters:
Israeli officials and experts say that the security cooperation between Israel and Egypt under Gen. Abdul-Fattah el-Sisi, the Egyptian military leader who removed Mr. Morsi, has grown closer than ever. The Egyptian military has been fighting Islamic militants in the Sinai Peninsula, along the border with Israel, and destroying tunnels that were long used by the Hamas militant group to smuggle weapons into Gaza, where they could be used against Israel.
Last August, I wrote an op-ed for the Orange County Register in which I argued that the U.S. should cancel all foreign aid to Egypt immediately. Read it here.