Privately Run Park Director Again Calls Out Feds Over "Illegal" Closure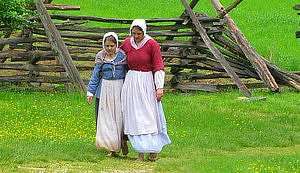 Anna Eberly, Managing Director of the privately run, funded and staffed Claude Moore Colonial Farm is taking no prisoners in her war with the National Park Service over the politicized closure of a park on which the federal government spends not a penny and with which it is involved in no way other than the ownership of the land. Eberly's first email on the subject referred to the NPS's position as "utter crap." Her latest elaborates. It reads, in part:
Unfortunately, the National Park Service remains unmovable and also unreachable due to the shutdown so nothing has changed for us.

I would like to answer some of the questions that I have received from some of you in this "group setting".

We are critical of the National Park Service because we think they have closed us down illegally according to the terms of the agreement we signed with them in 1981. The agreement states that we will operate the Farm and open it to the public and the only thing they will provide is police protection if needed. Many years ago, we decided that calling the Fairfax County Police if needed (they have joint jurisdiction) worked better for our situation. And because of our proximity to the Central Intelligence Agency, we have probably the best security on earth. The CIA has also treated us with great decency and respect and we value them highly as our neighbors.

The reason that it is so important that we remain open is because of the income we receive from Pavilion rentals, admissions, sales and program fees. We have had to cancel every event at the Farm this week so we have already lost more than $15,000 in operating income because October is the busiest month of the year for us. When the Federal government reopens, as it inevitably will, they will be funded by all of us. The Farm may never reopen again if we cannot open soon because we don't have any other source of revenue except that which we earn for ourselves.

The staff has been here all week in spite of being threatened with arrest because we feel our cause is just and the Farm is worth protecting. And many of our volunteers are Federal employees that now have time on their hands. They could be here volunteering but are banned from the Farm. What an incredibly stupid waste of time and talent.

It is true that my comments about the National Park Service were harsh but they are based on 40 years of dealing with them so I do speak from experience. The NPS has some wonderfully dedicated professional employees who would probably lay down their lives for our parks. Unfortunately, they don't seem to be in charge anymore. The future of the NPS rests with the goodwill of the American people and groups such as ours that could help them protect and manage their vast resources. But treating your partners with disdain and contempt dooms future possibilities for healthy cooperative ventures. I wonder what would have happened at the mall if the NPS had reached out to the VFW and American Legion to provide volunteers instead of placing paid armed guards?

Hopefully our appeals will eventually reach the right people and they will come to the same conclusion we have. Our agreement gives us the right and the duty to be open to the public.
That's right. This is a "living history farm" located on public land, but taken over by private parties decades ago, and staffed, managed and funded with no reference to federal agencies or resources. But it was closed under the government shutdown, and its private staff threatened with arrest for continuing to work, because…
You do the math.