Scenes from Obamacare's Glitch-Filled Opening Day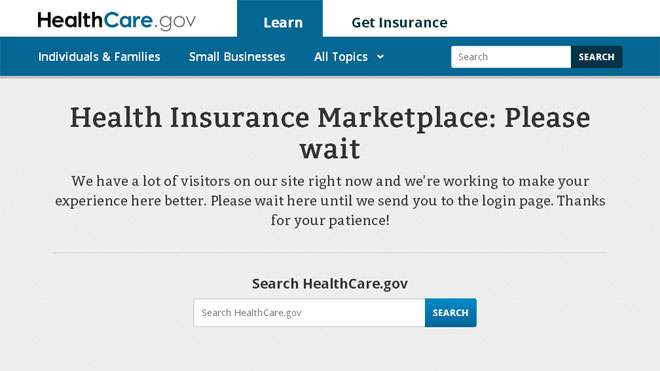 "We think we're off to a good start," is how Marilyn Tavenner, the chief administrator at the Centers for Medicare and Medicaid Services (CMS), characterized yesterday's launch of Obamacare's health insurance exchanges.
How good? Well, they won't exactly say. A federal spokesperson said that individuals successfully applied for insurance in the exchange system run by the federal government, which is administering 36 of the exchanges'"but refused to provide details about how many actually enrolled.
A report in The New York Times offers this scene from a health center near Miami in Florida, one of the states where the federal government is administering the exchange:
All day, trained application counselors typed in "Florida," or got as far as entering some applicants' personal information, before the system crashed. Sometimes the crash came when it was time to answer a security question. Other times applicants put in their security question answers but could go no further.

Out of nearly 72 applicants who sat down with counselors by noon, none were able to access the marketplace. All of the applicants were given appointments to come back another week.
In other words, not a single person who showed up to get coverage managed to even create the account necessary to log into the system, much less actually shop for and enroll in coverage. It's the same problem I had when I tried to browse the system yesterday, the same problem Reason's J.D. Tuccille had when he tried to sign up, the same problem that numerous health reporters say they've had when they've tried to create accounts and log in.
Some of the functionality seems to be improving today. I finally managed to create an account around 12:30 p.m. this afternoon. But I still had trouble logging in afterwards. I wondered if perhaps it was an issue with credentials, but the password and username retrieval systems didn't work either.
In Texas, some potential applicants didn't even get to the point of trying to create a login, reports The Washington Post:
In South Texas, health-care providers reported an unusual problem with the federal marketplace: Many patients didn't have e-mail addresses and therefore couldn't sign up online.

The Brownsville Community Health Center had 50 people show up on Tuesday ready to sign up for health coverage '" many even brought pay stubs and income documentation '" but not a single one had an e-mail address.

"If you don't include an e-mail address, they won't let you through," said Christela Gomez, the special-projects coordinator and lead certification application counselor at the center. "Quite a few didn't even know what an e-mail address was," she added.
Still, the most common problems seemed to be technical. The administration is pinning website glitches on unexpected traffic volume, and says it will upgrade capacity.
The federally run exchanges aren't the only ones having trouble.
The state-run exchange in New York displayed an error message throughout much of yesterday; officials there also blamed heavy web traffic, saying the site got 2 million visits during opening hours. Indeed, virtually all of the states had some sort of trouble yesterday: Reuters reports that its checks in 47 states through yesterday turned up "frequent error messages and traffic overload notices."
The exchange in Minnesota had major problems throughout the day and could not confirm that they enrolled anyone at all. The exchange in Washington state was offline for six hours, and said the problem wasn't too much traffic. Hawaii's exchange took applications, but had no plan details on offer.
Some state exchanges did post enrollment figures. Connecticut processed 167 applications by the end of the workday. The District of Columbia exchange had 175 people start the process, although only four completed enrollment, according to the Post. The state-run exchange in Kentucky appears to have been the most successful at enrolling people throughout the day, with more than 1,000 applications completed. But reports indicate that it, too, experienced "substantial glitches" and login issues during the day.