Are Obamacare's Federal Exchanges Practically Empty?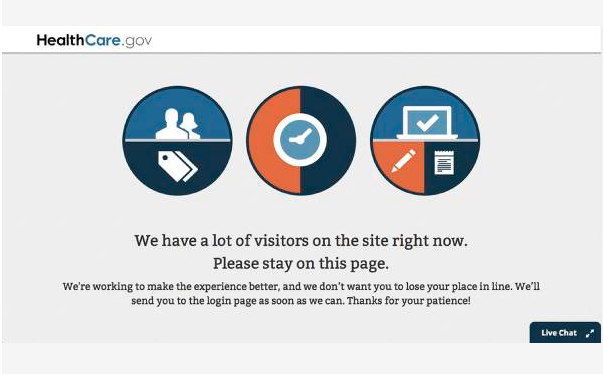 Obamacare's second day of exchange enrollment didn't go much better than the first. The state-based exchanges were once again plagued by delays and glitches, but the biggest problems seemed to remain concentrated in the 36 exchanges being managed by the federal government. Officials with the Centers for Medicare and Medicaid Services (CMS) said that their system was still overloaded with an unexpectedly high volume of web traffic—4.7 million visits during the first 24 hours of enrollment.
But what they are still not saying is how many people actually managed to sign up for coverage within the federal exchanges. That data, they say, may be ready next month. But given widespread reports of problems with account creation and enrollment on those exchanges, it seems possible that the number of people who have enrolled so far is very, very small. In fact, it's not clear that any reporter has managed to encounter one yet at all.
The head of a "navigator" program intended to assist people with enrolling in Wisconsin's federal exchange, for example, told The New York Times today that to his knowledge, not one of the people his organization tried to sign up made it through the system.
A spokesperson of an enrollment assistance program in Kansas, which also has a federally facilitated exchange, told Kaiser Health News that "We have not been able to get to see any insurance plans in Kansas."
In the same report, multiple enrollment assistance workers in Florida said that they had not been able to enroll a single person through the online system. "We have been trying to get online virtually nonstop since 5 a.m. Tuesday and have not been able to," John Foley, who oversees a navigator program in Palm Beach, said to KHN. (A previous New York Times report also reported on one enrollment center that was unable to enroll a single person.) Enrollment aides in Texas and Mississippi also told KHN that they have not been able to fully complete a single application.
The NYT also reported enrollment trouble in Texas' federal exchange:
"We haven't gotten anyone all the way through the process," said Tim McKinney, president and chief executive of United Way of Tarrant County, in Texas, which has one of the nation's biggest teams of enrollment counselors. "Yesterday, we were completely frozen out. Today, some of our navigators were able to at least get into the system, but they can't get very far into it."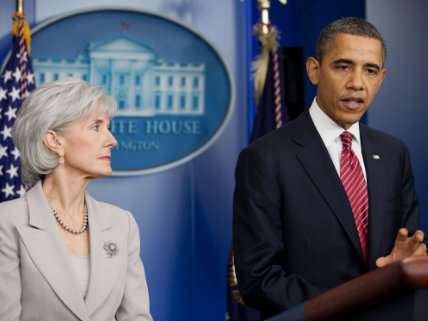 The KHN report does find a spokesperson for an enrollment assistment program in Virginia who says that a small number of people were successfully enrolled in the state's federal exchange early this morning.
But Virginia is the only state with a federally run exchange in which that report finds a successful online enrollment in a federal exchange. Neither report includes an interview with an individual who has enrolled.
Indeed, it appears that as of this afternoon, no reporter had yet to interview any individual who has successfully completed enrollment through a federally run exchange. Sarah Kliff, a health policy reporter for The Washington Post, said on Twitter late this afternoon that she was so far unable to find anyone who had enrolled in one, and seemed to suggest that no other health reporter had been able to find such an individual either.
Combine this with the federal officials' unwillingness to release any enrollment numbers whatsoever, and you have to wonder if enrollment in the federally run exchanges is exceedingly low so far—especially when Obamacare's administrators and spokespeople have been so quick to tout high, and specific, web traffic numbers as a sign of success. Federal officials say that some unknown number of people have enrolled in federal exchanges. Presumably those individuals who will surface eventually, perhaps even quite soon. But right now, they seem to be strikingly difficult to find.
Update: A previous version of this post said that The New York Times reported successful enrollments in Virginia's federally run exchange. That passage no longer appears in the NYT piece.
The New York Times report linked in the post above originally stated that Jill Hanken of Enroll Virginia told the NYT that some Enroll Virginia staffers were able to help people get coverage. As of 9:15 p.m., the report no longer includes any mention of Hanken, nor does it include any update. A mention of Hanken in the article still appears in a Google search however:

I've updated the post accordingly. This now means that there is even less reported evidence of individuals having successfully enrolled in Obamacare's federal exchanges.
Update 2: I asked NYT reporter Abby Goodnough, one of the reporters on the piece, about the changes. She responded on Twitter, saying that "Web stories often change over the course of the day as we update our reporting and add new info." I asked about the reason why Hanken in particular was edited out of the story, and she said, "I'm sure there was no specific reason. We'll keep looking for people who have successfully enrolled."
Update 3: And we have a winner! On Twitter, Peter Frost, a health care business reporter with the Chicago Tribune, says he's confirmed with one individual who successfully purchased coverage on the federally run exchange in Illinois.