Count to Seven
N.Y. gun control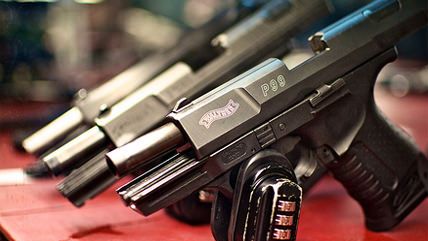 Here is a little-noticed feature of New York's new ban on gun magazines that can hold more than seven rounds: It does not actually ban gun magazines that can hold more than seven rounds. That was the original idea, but then Gov. Andrew Cuomo realized the magazines the state was mandating did not actually exist. His solution: let people buy 10-round magazines but make it illegal to put more than seven rounds in them.
Retired police officers objected to that restriction, correctly noting that it was unlikely to be obeyed by criminals. Afraid of being outgunned, they demanded an exemption from the seven-round limit. The state legislature, which had already amended the hastily passed gun control law to clarify that its rules did not apply to current police officers, extended that professional courtesy to former cops in June. Among the leading supporters of the measure: state Sens. Eric Adams (D-Brooklyn) and Martin Golden (R-Brooklyn), both former members of the New York Police Department.
Adams said the exemption was especially important given that the ammunition limit (which he supported) will be obeyed only by law-abiding people. "You can't give more ammo to the criminals," he said. Explaining why he voted to put himself above the law, Golden said ex-cops like him are "not a separate class of people…but they are an experienced class of people.…They know how to deal with the criminal element, so if anybody deserves to have a 10-round magazine [we do]."