Majority Disapproves of Obama's Job Performance, Support Slips Among Young Americans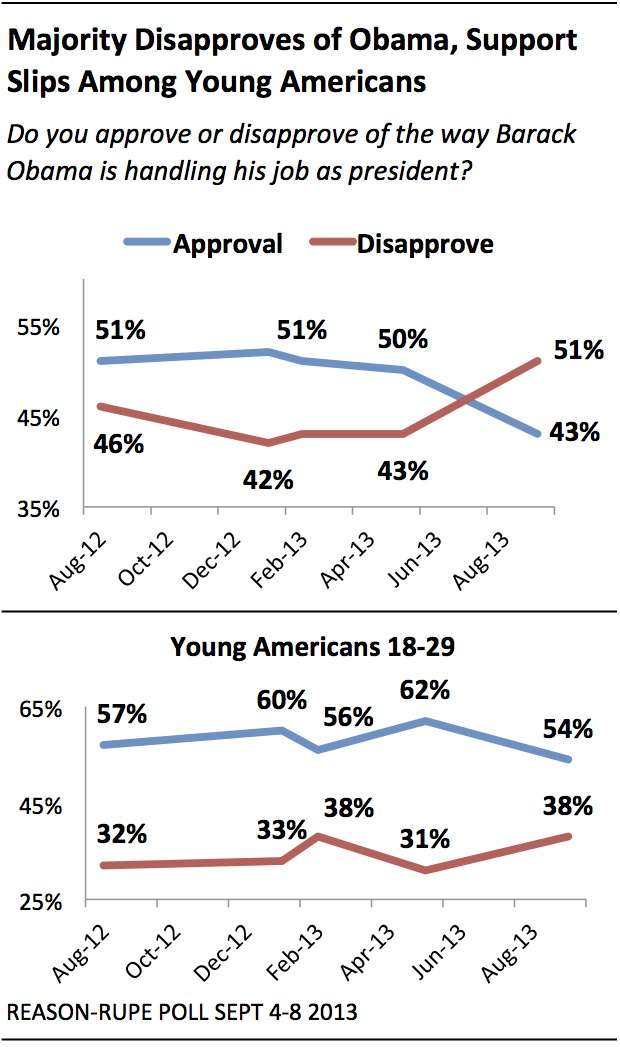 The latest Reason-Rupe poll finds President Obama's approval rating has declined from 50 percent in May to 43 percent in September; disapproval has shot up to 51 percent. Obama's support has also slipped among young Americans, a critical group in his reelection coalition. Since May, Obama's approval among 18-29 year olds has declined 8 points from 62 percent to 54 percent. Nevertheless, the president still enjoys support from a slim majority of young people, and administration critics may find that young people perceive criticism of the president as really opposition to societal progress rather than simply an assessment of the president's policies.
FULL REASON-RUPE POLL RESULTS HERE
Young Americans Still Like the President, Disappointed with Un-kept Promises
While Obama's approval among young people has declined, it's important to note that disapproval for the president has not exceed 40 percent since last year, standing at 38 percent in September. This suggests that while enthusiasm for the president has subsided since his 2012 reelection campaign, young Americans do not despise the president. Anti-Obama memes are unlikely to be successful in changing hearts and minds within this age group.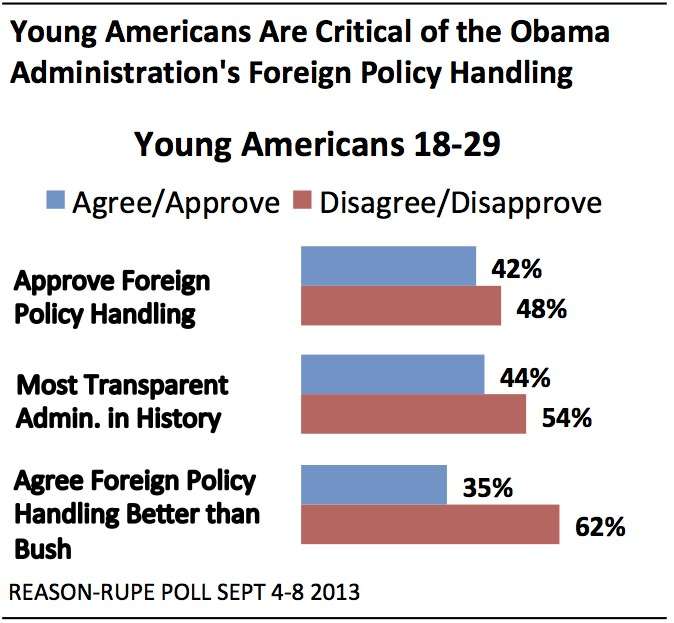 While young people do not dislike the president, they are disappointed in what they perceive to be his un-kept promises. For instance, the President has contended his administration is the "most transparent administration in history;" however, a majority (54 percent) of young people disagrees, while 44 percent agrees.
Considerably more young people disapprove of President Obama's handling of foreign policy (48 percent) than of his general job performance (38 percent), while 42 percent approve of his foreign policy handling (54 percent approve of general job performance). Moreover, only a third (35 percent) believe Obama has handled foreign policy better than predecessor George W. Bush. In contrast, 25 percent say his foreign policy handling has been worse, and 37 percent say it is no different. In sum, 62 percent of young Americans don't perceive President Obama's handling of international affairs to be any better than President Bush's.
Presidential Approval Declines Among Young White Americans, Remains Constant Among Young Nonwhite Americans
The Pew Research Center reported in 2009 that 61 percent of young Americans 18-29 were white and 39 percent were nonwhite, including African-Americans (14 percent), Latinos (19 percent), and Asians (5 percent). (In contrast 80 percent of seniors are white and 20 percent are nonwhite). The increase in diversity among today's young people prompts further analysis of millennials' attitudes taking into consideration differences in race and ethnicity. Doing so reveals young Americans' complex set of attitudes toward President Obama.
A slim majority (52 percent) of young white Americans disapproves of Obama's job performance, and 39 percent approves. In contrast, more than two-thirds of young nonwhite Americans approves of his performance, while a quarter disapproves. However, in January, Obama also had near majority support of young white Americans, when 50 percent approved of his job performance and 44 percent disapproved. Since January, support for the president has declined 11 points among young white Americans. In contrast, young nonwhite Americans support the president in roughly equal proportions in September as they did in January. It is necessary to keep in mind margins of error are considerably wider for these smaller subgroups; however, even assuming a 10-point margin of error barely coalesces these groups.
One may have expected a decline in support for the president since May amidst the IRS and Department of Justice scandals and controversial revelations of NSA surveillance and the situation in Syria. However, these data suggest that the aforementioned events had a differential impact on perceptions of the Obama administration between white and nonwhite Americans under 30.
Perceptions of the Obama administration's transparency also diverge when accounting for race and ethnicity. Young nonwhite Americans are significantly more likely than young white Americans to say President Obama has overseen the most transparent administration in history by a margin of 54 to 34 percent (assuming a 10 point margin of error barely coalesces responses).
Among young nonwhite Americans, 44 percent believe Obama has improved upon Bush's foreign policy handling compared to 26 percent of young white Americans.
A larger difference in perception emerges among young nonwhite Americans comparing general approval with Obama as president and his handling of foreign policy specifically. When asked about the president's handling of foreign policy, young nonwhite Americans' disapproval doubles that of general job performance (rising from 25 to 39 percent). In contrast, disapproval increases relatively less among young white Americans, rising from 52 percent (general job performance) to 58 percent (foreign policy handling).
Conclusion
These data indicate that the president is losing support among young Americans. However, recent controversies and foreign policy crises have had a differential impact among young nonwhite and white Americans in how they perceive President Obama. The President has lost support faster among young white Americans than nonwhite Americans. However, young nonwhite Americans were significantly more likely to disapprove of Obama's specific handling of foreign policy than they were his general job performance overall. While not all young people may agree with the administration's policies, many view the President as a symbol of positive change in the country—an indicator of greater inclusivity in politics and in society more generally.
Critics of the president would be wise to recognize that many young people may perceive critiques of the administration's policies as resistance or opposition to societal improvement. Therefore, critics should be careful they are clear that their disagreement is with policy not progress.
FULL REASON-RUPE POLL RESULTS HERE
Nationwide telephone poll conducted September 4-8 2013 interviewed 1013 adults on both mobile (509) and landline (504) phones, with a margin of error +/- 3.7%. Columns may not add up to 100% due to rounding. Full poll results found here. Full methodology can be found here.