Fed Says It Won't Ease Back on Quantitative Easing Just Yet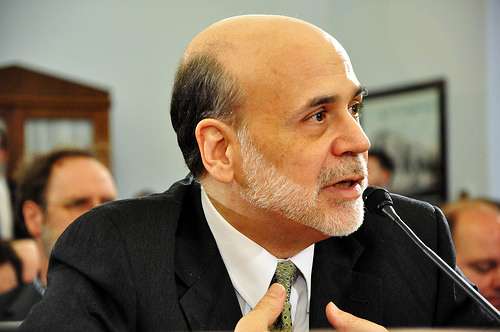 When the Federal Reserve embarked on its latest round of quantitative easing (QE), it basically said that it would continue buying bonds until whenever it felt like stopping. The understanding was generally that bond-buying would continue until the economy looked like it was doing better, although the Fed didn't exactly say what "doing better" would look like.
Lots of observers expected that the Fed would announce plans to ease off its bond-buying program today.
But it turns out that the Fed won't start tapering its QE program quite yet. The Federal Open Market Committee announced today that it would hold off on winding down its QE program, because the economy, while improved somewhat, is still too weak.
Taking into account the extent of federal fiscal retrenchment, the Committee sees the improvement in economic activity and labor market conditions since it began its asset purchase program a year ago as consistent with growing underlying strength in the broader economy. However, the Committee decided to await more evidence that progress will be sustained before adjusting the pace of its purchases. Accordingly, the Committee decided to continue purchasing additional agency mortgage-backed securities at a pace of $40 billion per month and longer-term Treasury securities at a pace of $45 billion per month. The Committee is maintaining its existing policy of reinvesting principal payments from its holdings of agency debt and agency mortgage-backed securities in agency mortgage-backed securities and of rolling over maturing Treasury securities at auction. Taken together, these actions should maintain downward pressure on longer-term interest rates, support mortgage markets, and help to make broader financial conditions more accommodative, which in turn should promote a stronger economic recovery and help to ensure that inflation, over time, is at the rate most consistent with the Committee's dual mandate.
So when will the tapering begin? Eventually! (Probably.) "Asset purchases are not on a preset course," the statement says, "and the Committee's decisions about their pace will remain contingent on the Committee's economic outlook as well as its assessment of the likely efficacy and costs of such purchases."