Even Public Workers Know Ailing Cities Need to Change Their Benefits Systems
Reason-Rupe Poll shows a desire to make city workers more responsible for their own retirements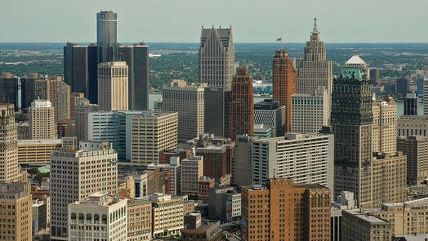 (ifmuth / Foter / CC BY-NC-ND)
Earlier today, Reason Foundation Polling Director Emily Ekins highlighted Americans' unwillingness to bail out Detroit from its financial woes, with 65 percent opposed.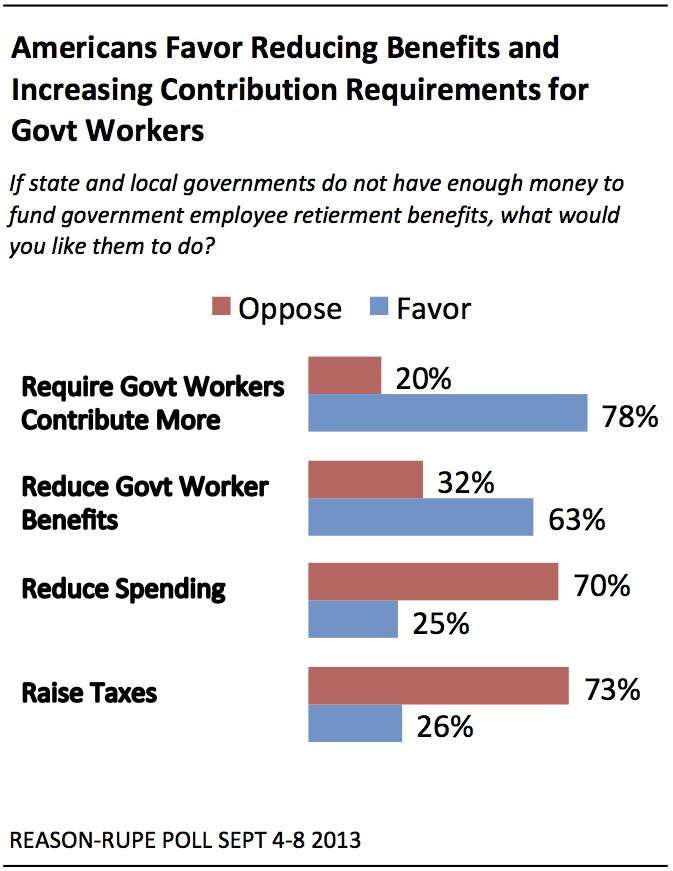 The latest Reason-Rupe poll also delved in further into how the public perceives municipal budget problems and how to fix them. In short, the majority polled don't want higher taxes or reduced services – not really a surprise. But majorities do want cities to deal with financial problems by reducing benefits for public employees or requiring them to contribute more into their own benefits. A majority of public sector employees – 67 percent – also agree that they need to be paying more into their own benefits. A full 45 percent of public sector employees say their own benefits should be reduced. Obviously not a majority, but that's a pretty high number.
The majority of those polled – 70 percent – also believe new public sector employees should be shifted over to 401(k)-style savings programs rather than defined-benefit pension programs. Even a majority of public sector employees, 59 percent, want new employees to be shifted away from pensions.
These numbers are interesting because they diverge significantly from what cities are actually doing in the midst of financial crises. In November's issue of Reason magazine, we'll be looking at five cities in bad fiscal shape (bankrupt Detroit and San Bernardino, Calif., among them). But beyond just those five cities, current trends nationwide show pension reform ranking about last in tactics municipalities are using to cut spending. This is according to a survey of municipalities by the National League of Cities of city fiscal conditions for 2012 (pdf). A city employee was more likely to be laid off entirely over the past couple of years than have his or her pensions reduced.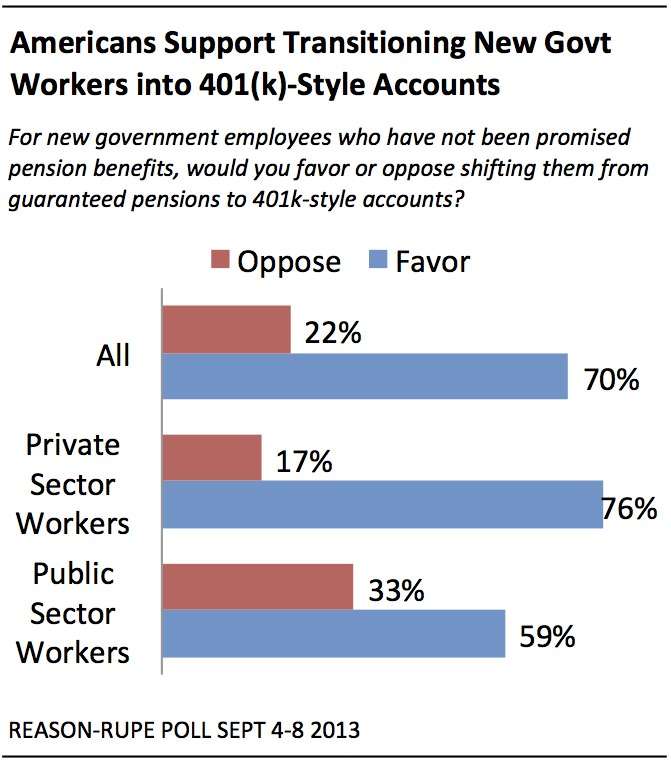 But thanks to the significant amount of work done to memorialize these benefits through the passage of laws lobbied for by powerful public sector unions, pensions and health benefits have also proven to be the hardest to reform. In California, Gov. Jerry Brown (certainly no enemy of the unions) managed to push through modest reforms that increased the retirement age, put a cap on payouts, and required greater contributions by employees. All of this was just for new hires, not existing workers. Nevertheless, the federal government is intervening, cutting off transportation funding because these rollbacks violate a federal rule demanding a state preserve transportation employees' rights to collective bargaining in order to receive federal money. So now the state is working on an exemption from this pension reform that applies only to transportation workers. One can imagine what the other unions are going to do in response.
If you want a head start at reading our upcoming feature, "How to Break an American City," subscribe today and watch your mail.