70 Percent of Americans, Including 59 Percent of Democrats, Oppose Raising the Debt Ceiling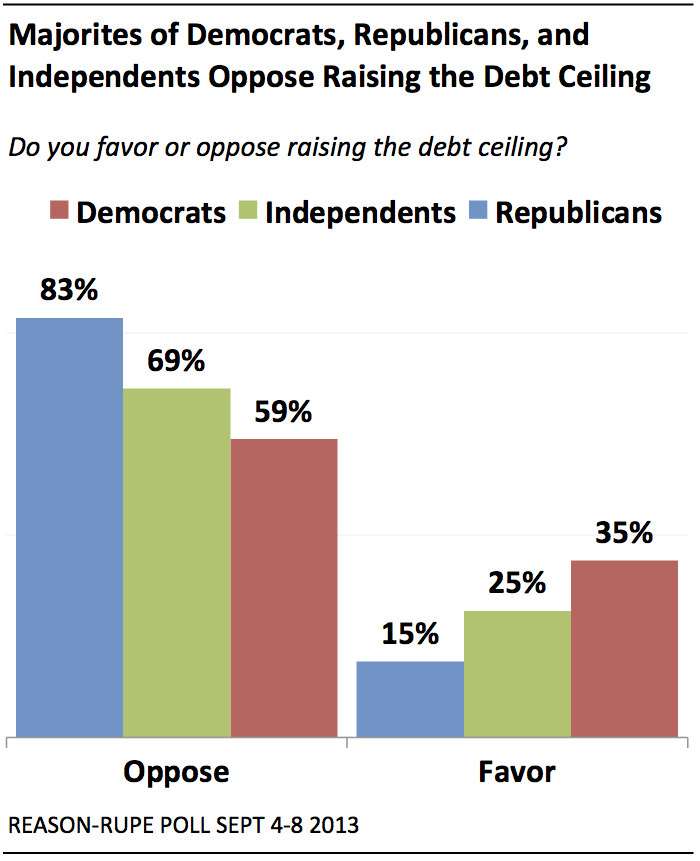 Congress will soon have to focus its attention on the debt ceiling, which the nation is expected to hit in mid-October. Seven in 10 Americans, 70 percent, oppose raising the debt limit, the new Reason-Rupe poll finds.
A majority of Democrats, 59 percent, along with 69 percent of independents, and 83 percent of Republicans are against raising the debt limit.
Of the 24 percent of Americans in favor of raising the debt ceiling, Democrats are more than twice as likely as Republicans to support it (35 percent of Democrats are in favor, compared to 15 percent of Republicans), while 25 percent of independents favor raising the debt limit.
FULL REASON-RUPE POLL RESULTS HERE
Nationwide telephone poll conducted September 4-8 2013 interviewed 1013 adults on both mobile (509) and landline (504) phones, with a margin of error +/- 3.7%. Columns may not add up to 100% due to rounding. Full poll results found here. Full methodology can be found here.