Marijuana Consumers, Innovators Growing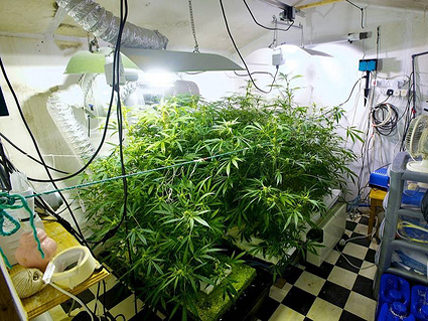 The market for marijuana appears to be growing—not just among consumers but also among businesses and researchers looking to built a better product.
The latest National Survey on Drug Use and Health provides numbers on the most popular drug in America:
In 2012, there were 18.9 million past month users [of marijuana]. Between 2007 and 2012, the rate of current use increased from 5.8 to 7.3 percent, and the number of users increased from 14.5 million to 18.9 million.

[…]

It was used by 79.0 percent of current illicit drug users. About two thirds (62.8 percent) of illicit drug users used only marijuana in the past month. Also, in 2012, 8.9 million persons aged 12 or older were current users of illicit drugs other than marijuana (or 37.2 percent of illicit drug users aged 12 or older).
Additionally, the study finds that 7.6 million Americans smoke marijuana everyday, which is double the entire population of Colorado and a million more than Washington state's.
The legalization of marijuana in those two states is creating opportunities for entreprenuers.
At Business Insider, Walter Hickey points to companies developing new products for both medicinal and recreational use. Hickey highlights Dixie Elixirs & Edibles, which "is setting itself to be the Pepsi of marijuana" by selling cannabis-infused soft drinks. The company also sells a range of products including tinctures and capsules to mints and chocolate truffles.
"The marijuana they use to get these oils would otherwise be waste from a marijuana growery — the cannabis by-products that, while still containing the oils that convey a "high," are not smokable or able to be sold to customers as flowers," explains Business Insider.
Nevertheless, Dixie Elixirs needs to overcome the hurdle of ensuring that its products have a consistent dosage of Cannabidiol (CBD), the major chemical compound in marijuana that has medicinal applications. This is opening up niches in the industry for other companies, like Apeks Supercritical, which provides Dixie Elixirs with specialty extraction equipment.
Likewise, Dixie Elixirs teams up with CannLabs, which "analyzes both marijuana infused products as well as other products like hash concentrates" for impurities and chemical content, according to Business Insider.