Obamacare Defunders Admit They Don't Have Votes to Defund Obamacare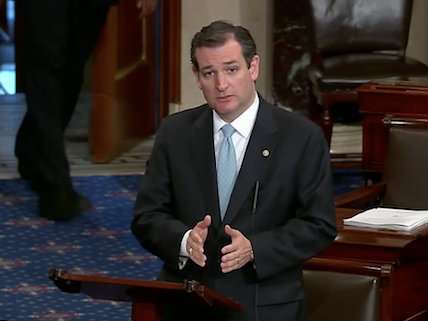 Something weird is happening with the movement to defund Obamacare: It's still pressing on, despite admissions by some of the most vocal proponents that it's not working.
Heritage Action, the political arm of the influential conservative think tank the Heritage Foundation, has been holding rallies across the country in hopes of bolstering support for a defunding push in conjunction with an upcoming continuing resolution to fund the government. This is as much an internal GOP fight as anything: In addition to the rallies, the group is reportedly spending $550,000 on advertisements pushing Republicans to go along with their plans.
What Heritage Action wants is for House Republicans to commit to a showdown: Defund Obamacare, or refuse to pass a continuing resolution—and shut down the federal government.
The big problem with that plan, of course, is that it doesn't explain how, exactly, a measure defunding the health law would get through the Senate, which is controlled by Democrats—or, for that matter, the White House.
The answer, it turns out, is that it wouldn't. Asked about a defunding bill, Heritage Foundation president Jim DeMint responded, "We wouldn't expect Harry Reid to necessarily take it up. But if the House passed it and sent it to the Senate, it would give Republicans something to talk about that needs to be done, where the majority of Americans would be on their side."
So the plan to defund Obamacare isn't a plan to defund Obamacare. It's a plan to talk about defunding Obamacare.
DeMint mentions public support. There's no question that polling is a problem for the health law. The Kaiser Family Foundation's August health tracking poll puts support for Obamacare at 37 percent—down eight points since last year's election. Some 42 percent of the public view the law unfavorably.
But polls also show that if Republicans pursued a defunding fight, a majority of Americans wouldn't be on their side. Even more tellingly, a large number of Republicans—perhaps a majority—wouldn't be on their side. Kaiser's August poll finds that 57 percent of the public would disapprove of defunding the health law. That means that defunding is even less popular than Obamacare itself. Indeed, 34 percent of Republicans, as well as 33 percent of those who say they view Obamacare unfavorably, say they would oppose defunding the law.
What's notable about this poll is that it doesn't even mention shutdowns, which tend to be quite unpopular. It simply asks about defunding.
When government shutdowns enter the equation, support erodes even further, even amongst the GOP. Republican pollster David Winston asked voters what they thought of shutting down the government to defund Obamacare and found that 71 percent of the public opposed overall—a view shared by 53 percent of Republicans in his poll.
Congressional supporters of the defunding plan know they don't have what they need to make it happen. "We do not have the votes right now," Sen. Ted Cruz (R-Tx.), whose letter kicked off the defunding push, admitted over the weekend.
So the Senate wouldn't take up a defunding bill. The votes don't exist—not in the House, and not in the Senate. And the public isn't on board with the plan either.
Why is Sen. Cruz still stumping for defund? "This fight is likely to heat up in the month of September," he said on CNN over the weekend. And while the votes don't exist now, he said, there's always a chance! "I believe if we see a grass-roots tsunami, that is going to cause Republicans and Democrats to listen to the people. … It is going to take a tsunami and I'm going to do everything I can to encourage that tsunami."
That's not very convincing. But maybe that's not the point. The fantasy of defunding the law via a huge popular outcry might be comforting to some Obamacare opponents. But it's just a fantasy. And that means that if there's an actual strategy to dismantle the law, it's also a distraction.