NYPD Officer Charged With Multiple Felonies After Arresting New York Times Photographer, Said Flash Was Interfering But There Was No Flash on the Camera
Still has a job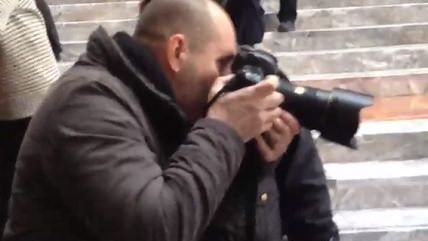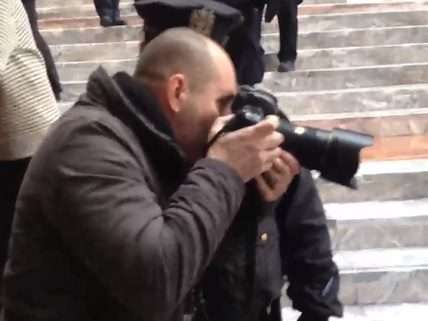 An officer with the New York Police Department has been charged by the Brooklyn DA for alleged crimes related to his arrest of a New York Times photographer. From the Times:
When an officer told Mr. [Robert] Stolarik [the photographer] to stop taking pictures of a girl being arrested, he identified himself as a Times journalist and continued taking pictures. Another officer grabbed his camera and slammed it into his face, Mr. Stolarik said at the time. As he asked for their badge numbers, the officers took his cameras and pulled him to the ground.

At the time, the Police Department said in a statement that officers had given "numerous lawful orders" for both the crowd and Mr. Stolarik to move back, but that he tried to push forward and "inadvertently" struck an officer in the face with his camera. The police said that Mr. Stolarik "violently resisted being handcuffed," leading to a second officer being cut on the hand.

The charges against Mr. Stolarik, 44, were dismissed. He declined to comment on Monday.
The arresting officer, Michael Ackermann was charged with multiple counts of filing a false report and official misconduct; he could face seven years in jail if convicted on the most serious count. He has yet to lose his job even as he's been formally charged. The officer claimed the photographer was interfering by using his flash, but the Bronx DA found no flash was used and that the photographer's camera wasn't even equipped with flash at the time.
A Times spokesperson told the Times that the Times continues to be "troubled" by the fact that the photographer was arrested in the first place. The Times can be troubled, but it shouldn't be surprised. This is case is the third time the NYPD has interfered with the photography work of Stolarik alone (something not mentioned by the Times. Carlos Miller's Photography is Not a Crime has chronicled the police's war on photographers nationwide and you can read more Reason about the war on photography here.