Muslim Brotherhood Vows To "Bring Down" Military Coup in Wake of Crackdown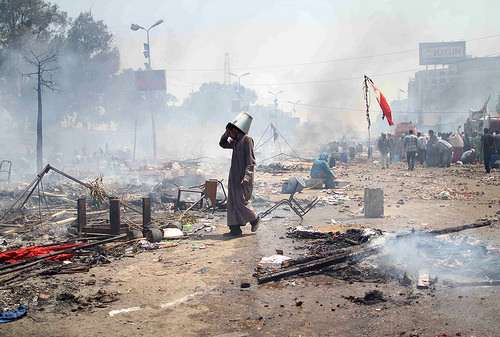 The Egyptian interim government has been widely condemned after Egyptian security forces stormed protest camps set up by supporters of ousted president Mohammed Morsi. The death toll from yesterday's crackdown has risen to at least 525.
In a statement today Obama condemned the recent violence, urged for the state of emergency to be lifted, and canceled a scheduled joint military exercise with Egypt.
The events in the last few days are only the latest reminder that the Arab Spring has yet to yield the results many were hoping for. Since Mubarak was toppled the Egyptians have had to live under the rule of an Islamist president and an interim government put in place in the wake of a military coup.
Despite the hundreds of people having been killed and the ongoing violence Ashraf Khalil over at Time magazine seems to think that the recent crackdown could provide an opportunity for some sort of "transitional roadmap" to be implemented:
The storming of the sit-in camps could mark the beginning of a new phase of the Egyptian political crisis. By purging the Brotherhood, the interim government might be able to begin organizing a new transitional roadmap—including scheduling fresh parliamentary and presidential elections.
It is hard to see quite how the Muslim Brotherhood has been "purged," its spokesman has said "We will push until we bring down this military coup," its supporters have set fire to a government building in Cairo, and more demonstrations are planned. The recent storming of pro-Morsi protest camps might have removed a symbol of opposition that some in the interim government found irritating, but it is unlikely to prompt a transitional roadmap that leads to elections.