Small Business Sues Sacramento for Free Speech Violations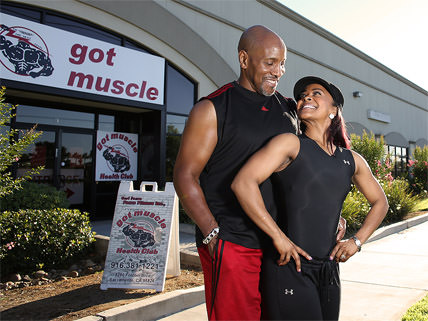 Carl and Elizabeth Fears own Got Muscle Health Club in Sacramento. Stuck in an inconspicuous location facing the back-end of a parking lot, the Fears placed a sandwich board-style sign on the sidewalk to draw more attention to their business. After years of displaying the sign, the Fears are now facing hundreds of dollars in fines every day the sign remains up.
The Sacramento government insists the sign violates local code. Working with the Institute for Justice (IJ), the couple is taking the city of Sacramento to court for violating their First Amendment rights.
IJ cites two ways Sacramento infringes on the rights of the Fears. First, "the city unconstitutionally bans speech based on its content." Second, "the city's sign code unconstitutionally restricts commercial speech more broadly than is necessary to satisfy any legitimate governmental purpose—the code is "riddled with exemptions" for real estate, nonprofits, political campaigns, historical, and religious groups.
Erica Smith, one of the lawyers on the case, explains that cities often justify these kinds of codes with traffic safety concerns and aesthetics. Smith, however, points out that "many academic studies debunk the safety issue. The human brain filters out irrelevant information." She adds, "in fact, signs actually ease traffic congestion," because drivers have a better guidance on their route. Smith also explained that this type of overregulation is especially damaging to small businesses. "Big franchises do no need the sandwich board advertising like Got Muscle."
According to IJ, the Fears have no desire to make a quick buck off their city:
The Fears are not asking for money. Instead, they just want a declaration stating that the city's sign code is unconstitutional and a permanent injunction stopping the city from enforcing it. The Fears are also asking for a preliminary injunction that would allow their signs to remain in place until the court makes a final decision.
William Maurer, another IJ lawyer, points to a similar case involving political signage: "This is unfortunately part of a trend across the country," he says. Local governments "believe they don't need to have a good idea of what the Constitution requires, what they're limited to do, and the rights that people possess both in property and speech."