Here's Why Obamacare Opponents are Pushing for Delay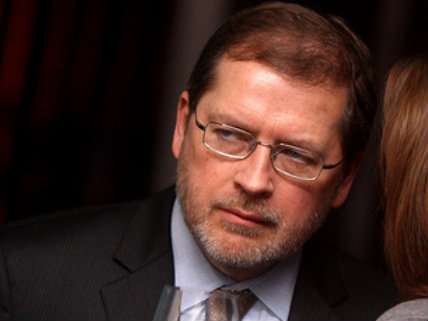 With the effort to defund Obamacare in a government-shutdown showdown stalling out due to lack of support, there's a new focus for opponents of the law: Not defund, but delay.
A group of right-leaning activists, led by Grover Norquist of Americans for Tax Reform, released a letter this week asking House Speaker John Boehner to delay virtually all of the law's headline provisions—the mandates, subsidies, and taxes—for a year.
The mention of the law's widely disliked individual mandate may get some attention, but it's the insurance subsidies that matter most. Once those tax credits start being doled out to middle income individuals and families—people up to 400 percent of the poverty line, or about $90,000 for a family of four, are eligible—the law, and its spending, will become extremely difficult to repeal. The policy goal here is largely to delay the law's spending.
Here's the thinking behind the letter's tactical agenda: For one thing, it tacitly walks back the push by some of the law's opponents to refuse to pass a continuing resolution if it funds Obamacare—potentially shutting down the government in the process. That effort was controversial, even amongst Obamacare's opponents, in large part because it left no room for negotiation. This redirects some of the energy that would have gone toward the defunding push, and helps unify the law's opponents: A delay request is something basically everyone should be able to support.
It's also a more plausible ask of potentially sympathetic Democrats who might be on the fence about the law, or just worried about implementation hurdles. Which is not to say that the chances of a significant delay are high; to the contrary, they are very, very low. At best.
But there's a big difference between asking for Democrats to agree to wholly defund their biggest domestic policy achievement in decades and asking them to wait just one more year for its major provisions to take effect—especially when the federal government admits it is struggling to meet crucial data security deadlines, when the administration has already delayed some significant provisions, when a gang of Democrats in the House have already voted to delay the law's mandate, and when pro-Obamacare state officials implementing the law are saying things like, "I wish we had one more year" to get Obamacare off the ground.
This is a letter built on the assumption that that even if you think Obamacare is a great idea, it's not yet operationally ready for the real world. It implicitly urges the GOP to work with Democrats to give folks working on the law the extra time a growing number now say they wish they had.
That sort of less-combative ask puts Republicans in a better bargaining position. As does the letter's cautious lack of a hard line. The biggest problem with the Senate-led defunding push was that it was all or nothing, committing legislators and their allies to full defunding, full stop, with no wiggle room to support anything else. The new letter leaves supporters free to accept half a loaf rather than nothing at all, if that's the best deal they think they can get.
Which is why it also signals that many of the law's opponents are looking to actually weaken the law, if possible (which, at this point, it may not be!), rather than start a big, impulsive fight they are virtually guaranteed to lose.