Medical Marijuana Harder to Buy in New Jersey than Street Drugs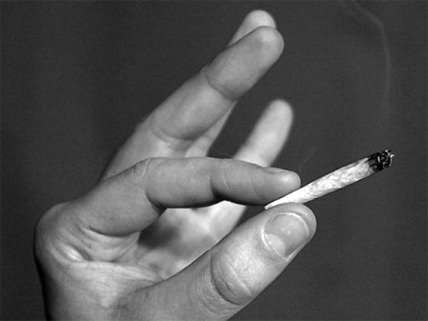 Despite medical marijuana being legal for over three years in New Jersey, extensive regulations and high fees have pushed some patients back into the black market.
The Star-Ledger tells the heartbreaking story of of Suzette Roberts, who suffers from stage 4 breast cancer:
[Following] the rules of New Jersey's struggling medical marijuana program has gotten the 64-year-old Cliffside Park woman nothing but $500 in doctor bills and a $200 ID card she has yet to use. New Jersey's only licensed dispensary told her in the spring they've been swamped and haven't gotten to her name on the waiting list.

Roberts—who says marijuana "lessens the pain and gives me more of an appetite" as she undergoes treatment… buys the drug illegally because she can't afford to wait.
Roberts is not the only one waiting in line. The vast majority of New Jersey residents with prescriptions have never received medicine. According to the Star-Ledger, only 127 of 1,000 patients hoping to buy from the state's only currently open dispensary have been served.
The Star-Ledger describes the Medical Marijuana Program (MMP) of New Jersey as "the nation's most restrictive." Unlike states such as Michigan and Delaware, medical cards from other states cannot be used in New Jersey. Unlike Arizona, which allows patients to grow up to 12 plants, or Washington where 15 are permissible, residents of New Jersey are prohibited from cultivating any marijuana plants.
"New Jersey is tied for second for the costliest registration fee," the Star-Ledger points out of the $200 upfront cost. Although patients with Medicaid are eligible for a reduced fee, from $200 to $20, the card has to be renewed every two years. Furthermore, neither Medicaid nor "any other health plans," according to the New Jersey Department of Health, can be used to mitigate the costs of buying this type of medicine.
Greenleaf, the only actively operating dispensary in the state, charges "$440 to $560 for an ounce of marijuana," according to the Star-Ledger, even before New Jersey's 7 percent sales tax is added to the purchase.
Just like their patients, doctors who wish to prescribe marijuana are subjected to registration. The New Jersey MMP site explains that a doctor's request to prescribe marijuana has to be processed not only by the MMP, but by the state's Division of Consumer Affairs. Physicians must also
"possess an active controlled dangerous substances registration." Furthermore, there exists a stipulation of a "bona fide physician-patient relationship," which must exist for either a full year or four visits before a doctor can prescribe medical marijuana to a patient.
Some of the bottleneck might be relieved soon, however. The South Jersey Times reports that the second state-approved medical marijuana dispensary plans to open on September 9.